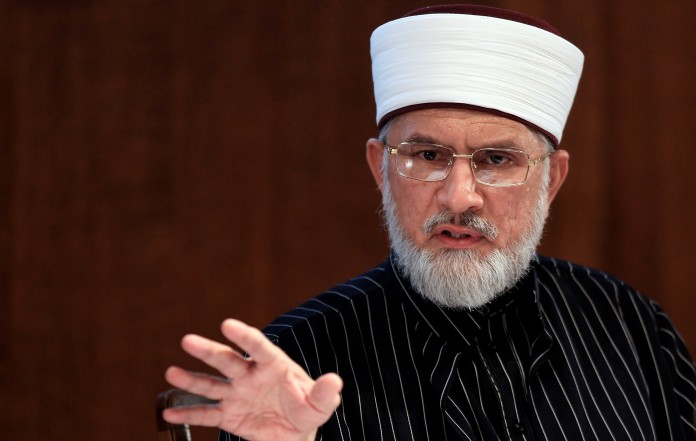 Moeed Pirzada | FB Blog |
A Conversation with Dr. Tahir ul Qadri on why he called off his Dharna and If he is going to Canada? – Friends started texting me today that Dr. Qadri has again decided to leave for Canada. Given my familiarity with the developing politics, possibility of Local Elections in near future and Qadri's plans to turn his PAT into an active political party I found that hard to believe. So I requested to speak to him. After a bit of effort I reached him on phone and I shot: Dr. Qadri, I just heard this and I am surprised. How could you do it?
He explained that he is just going to travel for few days. More than Canada, he will spend time in the US and UK where he intends to set into motion a reorganization of his political party, PAT which had remained dormant since 2004, while he concentrated on Tehreek-e- Minhaj ul Quran as his main activity, but now he is seriously working to reinvigorate Pakistan Awami Tehreek (PAT) and his followers in both US and UK constitute his key support. Qadri emphasized that he has moved back to Pakistan, and like anyone else living in Pakistan he will continue to travel in and out, but Pakistan is now his political focus and he will continue to be in the country as long as it takes and will be back much before his next scheduled jalsa at Bhakkar on 23rd Nov. He emphasized that he has given a full schedule of such Jalasa for instance he will be at Sargodha on 5th Dec, in Sialkot on 14th Dec, Mansehra on 21st Dec and Karachi 25th December, so permanently leaving for Canada is not an option for him at this stage – not any more.
Why he finished his Dharna? He said that he was thinking and planning to end dharnas and for taking his politics across the country for past several weeks. According to him, when he briefly joined Imran Khan at his Container due to failure of his sound-system (on 2nd Sept) he told this to Imran that he will have to wind his dharnas since his organization is paying a huge financial price for these, his people from different cities of Punjab are tired, have jobs and businesses and most importantly because he has concluded that now more than dharna, politics of rallies across cities and countryside is needed to continue with the political agitation – staying put at Islamabad restricts him. (Perhaps he had also concluded that his initial strength of having dedicated cadres was his weakness now, and Imran who did not have such hardened cadres had a different strength at this stage in terms of crowds every where, including Pindi and Islamabad who can continue to come and go, unlike Qadri whose supporters are from far off). According to Qadri, Imran listened patiently and carefully, did not protest much but looked unhappy on his suggestion. In the days to come, many political quarters pressed Qadri not to leave and the departure kept on being delayed but in principal he had decided to leave.
He is right to the extent that all those who were watching, and listening to all sides knew that sooner or later he will call off and his announcement two days ago was not a surprise. I knew for instance that Chaudries had pleaded him not to leave; this was before his large jalsa in Lahore and he had politely refused. But he stayed on for few more days. But still one wonders: Why he could not have maintained a small token presence of 200-300 people at Constitution Ave while continuing to have jalsas and rallies across the country?
Meeting of PAT with Shahbaz Sharif? – Dr. Qadri insists that such a meeting only took place between Dr. Raheeq Abbassi and Shahbaz Sharif; Khurram Gandapur was not present. This was an accidental meeting and Raheeq Abbassi happened to be at a place where Shahbaz Sharif came and bumped into him. (No one will or can believe this; as you have seen Fawad criticizing this simple narrative in our program on Sat). Any way according to Dr. Qadri, Shahbaz Sharif asked Raheeq Abbassi that what can be the way forward? Raheeq told him that he – CM Punjab – should resign briefly, till the end of investigations by JIT into the Model Town Massacre. Shahbaz rejected this point blank; adding that there was a stage to consider such things but time for such discussions has passed. Meeting ended in few minutes. But basically Dr. Qadri asserts that no deal has taken place between PAT and CM Punjab, and that they could never agree on anything – not even on Diyyat or Blood Money for those killed by Punjab Police in Model Town Lahore.
I described all that in "Siyasat Aur Sazish" today. How much of what he told me is true and how much is either Siyasat aur Sazish, I cannot say with certainty; and only time will prove. But I am confident of one thing: He is not going back to Canada; he sees significant political space for his party – Pakistan Awami Tehreek – in Local Bodies Elections and disappearing from the political scene will not make sense. Lets wait for the Bhakkar Jalsa on 23rd Nov – with crossed fingers…?? (Will some complications develop while he is traveling? Will something happen that will make it difficult for him to return? I have these questions on my mind, but we will find out)
Note: Transcript of this Telephonic Conversation can be checked with Intelligence Bureau for accuracy, under Right to Information Act.