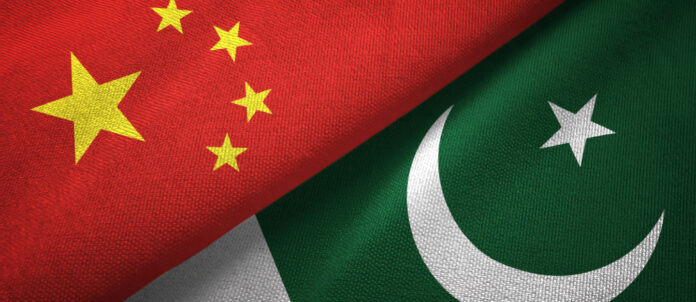 PM Imran Khan's visit to China on invitation by the Chinese leadership to visit Beijing from February 3 to Feb 6, 2022, to attend the opening ceremony of the Winter Olympic Games 2022 has been described as a huge success by both sides. It is obvious that the visit further cemented the historic and time-tested relations between the two countries – that describe themselves as "Iron brothers."
During the visit, the Prime Minister held face-to-face talks with H.E. President Xi Jinping, and H.E. Premier Li Keqiang. And Pakistan's foreign minister, Shah Mehmood Qureshi and his team had a separate meeting with premier Li Keqiang.
Visit's conclusion on 6th Feb – After three days of continuous meetings that saw PM Khan interacting not only with the Chinese leadership but also with the top corporate decision-makers saw the emergence of an unusual 33-point joint statement that addressed and resolved most issues that had concerned many on both sides over the past several months. A new term, "Shared Future," is being used by both sides to describe the deepening relationship of interdependence.
While two sides signed or concluded several agreements / MoUs, covering bilateral cooperation in areas of economics, technical cooperation, industrial investment, infrastructure, space, vaccine, digitalization, standardization, disaster management, culture, sports, and vocational education; the real importance of the consensus generated in Beijing in the first week of February is far-reaching.
Russian President Vladimir Putin's presence added more meaning to the significance of the gathering in Beijing, as hinted by Pakistani geo-strategist, Dr. Atia Ali Kazmi in her piece, "Winter Olympics and the New Great Game" in the current issue of this magazine. Pakistani PM will now be visiting Russia in the last week of February – first visit by a Pakistani PM after almost 23 years.
CPEC: Broadening into ever new areas of cooperation
While relations between Pakistan and China are institutional and historic since the early 1950s, yet key personalities in different phases have played crucial roles. Asif Ali Zardari made the most trips to China, and CPEC was started in Nawaz Sharif's period. Yet, Zulfiqar Ali Bhutto takes the prize whenever we think of Pak-China relations because he genuinely believed in the rise of China.
Pakistan's current prime minister – like ZA Bhutto in the 1960's – is genuinely fond of China; he is a great admirer of China's progress under the Chinese Communist Party (CCP) and is never tired of mentioning, in his speeches, that China has brought more than 700 million of its people from the clutches of poverty, developed massive state of the art infrastructure and communications, and has managed the challenges of human development, water and waste disposal in its large urban centres.
Khan is thus enthusiastic that Pakistanis and the country's institutions should learn from China's success and achievements in different walks of life. His ambition has led to a broadening of the concept of CPEC – for instance, his insistence in 2019 to add "Agriculture" to CPEC.
Read the thirty three-point joint statement, and one feels that this relationship is no more about security or roads only but has progressed through dialogues on infrastructure and industrial development into ever-expanding interests of agricultural modernization, scientific and technological cooperation in new areas like health, information technology, e-commerce, online payment systems, logistics, warehousing and customs facilitation.
Add to it the agenda items like water and waste management, urban planning, well-being of common people, and so on. All of this has started to reflect in the ever-widening agenda of CPEC Joint Cooperation Committee (JCC).
Consensus: From One China Policy to Kashmir to Afghanistan
It was also a time of reaffirmations. Pakistan underscored that Pakistan-China relationship is the cornerstone of its foreign policy and that closest friendship with China enjoys the abiding support of the people of Pakistan. Both sides reiterated their support on issues concerning each other's core interests. The Pakistan side expressed its commitment to One-China Policy and support for China on Taiwan, the South China Sea, Hong Kong, Xinjiang, and Tibet.
The Chinese side reaffirmed its support for Pakistan in safeguarding its sovereignty, independence and security and reaffirmed its principled position on Kashmir. Emphasis on a peaceful and prosperous South Asia, importance of pursuit of dialogue and resolution of all outstanding disputes to promote regional cooperation was a veiled reference to India's Kashmir policy that has affronted China after Narendra Modis' unilateral decisions of August 2019 in ending internationally disputed Kashmir's special status.
The Chinese side -without mincing any words – reiterated that the Kashmir issue was a dispute left from history and should be properly and peacefully resolved based on the UN Charter, relevant Security Council resolutions, and bilateral agreements. China opposes any unilateral actions that complicate the situation. Given the 2020 confrontation and standoff with India in Ladakh these words assume new significance.
Visible consensus on Afghanistan was a breakthrough and a message for the wider world. The Chinese side appreciated Pakistan for hosting the 17th Extraordinary Session of the OIC Council of Foreign Ministers on Afghanistan on 19 December 2021.
Emphasizing that peaceful, stable, united, safe, and secure Afghanistan is fundamental for prosperity and progress in the region, both sides called upon the international community to unfreeze Afghanistan's financial assets. China and Pakistan affirmed that they are ready to discuss with Afghanistan the extension of CPEC to its territory.
Expressing satisfaction with the outcome of two Foreign Ministers' meetings of the six neighbouring countries on Afghanistan, both sides declared next meeting to be held in China in March in which Pakistani FM Shah Mehmood Qureshi will be participating. They also declared that they would discuss with Afghanistan the holding of the China-Pakistan-Afghanistan Trilateral Foreign Ministers' Dialogue.
Resolve to defend CPEC from terrorism & negative propaganda
While affirming the win-win nature of CPEC and its significance to regional development and connectivity, China and Pakistan expressed their strong determination to safeguard CPEC from all threats and negative propaganda.
Indian and western media continue to demonize CPEC, and Pakistani security institutions have openly blamed Indian agencies for sponsoring terror attacks against CPEC. Coming after several high-profile attacks against Chinese workers – like in Dassu – this assertion now assumed a new meaning.
Pakistan, that had made a public announcement of US $11 million compensation for the victims of Dassu before the commencement of the visit, reaffirmed its commitment to making all-out efforts for the security of all Chinese personnel, projects and institutions in Pakistan and the Chinese side expressed its appreciation for the measures taken by Pakistan in this regard.
Emphasizing that CPEC was a win-win enterprise and pivotal for regional prosperity and enhanced connectivity, it was asserted that as an open and inclusive initiative, third parties were welcome to benefit from investment opportunities in CPEC SEZs. This might fulfill Pakistani needs for investments from Saudi Arabia, UAE, Qatar, and other friendly countries.
China's management of the Covid pandemic was exceptional as the figures of infection, and human losses demonstrate. After China, it was perhaps Pakistan that won international appreciation for its handling of the health crisis. Both countries had developed excellent cooperation during the Covid-19 pandemic, and Pakistanis benefited from Chinese vaccines like Sinopharm and Sinovac, which were later produced in Pakistan.
Now China and Pakistan have resolved to enhance their existing cooperation for developing emergency response systems, public health infrastructure, and joint ventures for development of the pharmaceutical industry in Pakistan to tackle similar challenges in the future.
Pharmaceutical industry has emerged on the agenda for the first time, and Pakistan's pharma industry wants China's help in producing basic materials – Active Pharmaceutical Ingredients (API). China is the world's largest manufacturer of API and pharma products.
An important breakthrough took place when Pakistan highlighted that China has become a popular education destination for Pakistanis, and China agreed that while ensuring safety against COVID-19, China will arrange for Pakistani students to return to China and resume classes in a prudent manner. Several thousand Pakistani students have not been able to return back to their universities since the outbreak of pandemic – given China's strict regulations.
Joint Statement also came up with a new theme when it asserted that China and Pakistan have agreed to make all possible efforts to support greater civilizational exchanges. While both sides welcomed the organizing of the Gandhara Art Exhibition at Palace Museum in Beijing in 2022, they agreed to further expand cooperation for the conservation and presentation of heritage and artifacts of the two countries.
This syncs with a rather provocative article written by Dr. Ejaz Akram, Chairman of National Rahmatul Lil Alamin Authority, in the current issue of this magazine, that asserts that Pakistan and China also share a past of civilizational exchange. The fact that Dr. Ejaz's article was written days before the Joint Statement makes it all the more significant.
Prime Minister, Imran Khan, reiterated his invitation to H.E. President Xi Jinping to pay a state visit to Pakistan. President Xi had last visited in 2015; if his trip materializes this year, then even the worst cynics will have to believe in the mantra of "Shared Future"