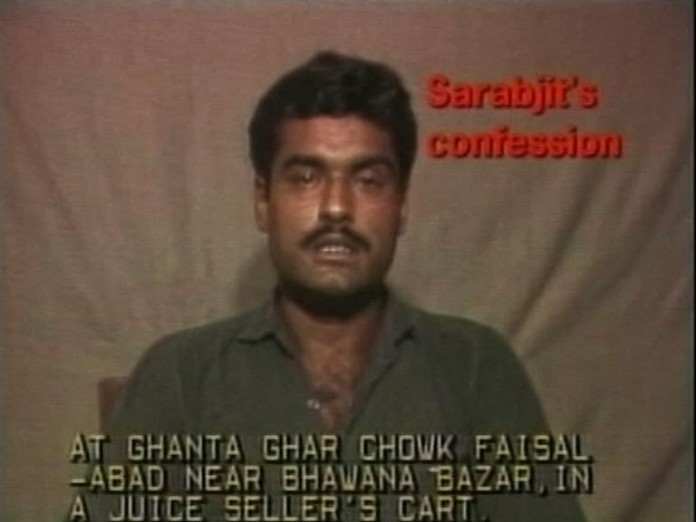 Moeed Pirzada | DAILY TIMES |
Musharraf must be persuaded to let Sarabjeet Singh walk freely to embrace his daughter Swapandeep. But for that to happen, the Indian media and leadership must do some soul-searching Sarabjeet Singh, accused of working for the Indian intelligence agency, Research & Analysis Wing (RAW), was convicted by Pakistani courts for causing series of bomb blasts in Lahore, in 1990. He is set to die by hanging anytime after April 30. But this won't serve anyone and shouldn't happen.
He has already spent 18 years in jail. President Musharraf can commute his sentence or set him free to embrace his young daughter, Swapandeep Kaur, who was a toddler when he left. But this is not an easy decision for a president who has often been accused of being an appeaser to the Americans and Indians by his countrymen.
Sarabjeet was found guilty of three separate bomb blasts, 14 deaths, dozens injured and fear and havoc in the cities of Lahore and Multan. It is believed to be part of RAW's retaliation against ISI's support for Khalistani separatists in Indian Punjab.
Pakistan's human rights activist, Ansar Burney, the family of Sarabjeet and other supporters in Indian Punjab, argue that this is a case of mistaken identity. That is true to the extent that the Pakistani prosecution and witnesses had identified him as one "Manjit Singh". But that also proves that if he indeed was a RAW agent then throughout the court process, he successfully stuck to the invented identity his ruthless planters had provided him.
But this technicality is not my plea. Eighteen years down the bridge, and remembering all the summers, the winters and the autumns of conflict that have since passed, I now await the spring of Pakistan-India friendship. Someone had said: if you keep your face towards the sun, you don't see the shadows. Are we going to let ourselves be hostage to the reactive mindset of RAW pinheads retaliating against ISI thickheads, and that too eighteen years ago?
Yes! I agree in the current globally imposed jargon, so wholeheartedly adopted by the establishment in Delhi Sarabjeet was a terrorist. But even then if we send him back in a coffin it will become another unfortunate symbol of negativity. It is not about Sarabjeet or his old bosses in RAW; it is about Pakistan and India. And this is an age of 24/7 TV channels.
Let me take you back to summer of 1999 and Kargil. In the Pakistani consciousness, restrained by the political compulsions and etiquettes of state broadcaster PTV, Kargil was never more than a blip; a remote border conflict.
Most of us watched sanitised bits and pieces on BBC. But in Indian homes and minds, from Shimla to Kochin, fed by a plethora of private TV channels, and thousands of cable broadcasters, it was the re-birth of a new and angry nationalism; first united in the sense of shock, helplessness and humiliation and then in a powerful surge of victory against the Pakistani intruders. Barkha Dutt, the indomitable Indian anchorperson, first became an all-India household name only during Kargil.
Now nine years down the line, Pakistan is swarming with fifty TV channels scanning the horizon and dredging the fields to find something to attract eyeballs and blow the minds. They have already locked Musharraf into his presidency and if the generals have really understood what has happened then they will decide to stay inside the barracks for a long time to come.
Following the events since 9/11, most Pakistanis were convinced that Indians fail to reciprocate their gestures of peace or goodwill. Now in their screen driven mass consciousness, New Delhi has already exported a very disturbing visual.
Millions in Pakistan watched released prisoner, Kashmir Singh healthy and smiling walking back across Wagah. And literally within 48 to 72 hours, in utter disbelief, they saw Indians sending back a Pakistani Khalid Mehmood his emaciated corpse bearing marks of electrocutions and boiling water packed in a coffin.
Back in Delhi, Kashmir Singh boasted: Yes, he was a spy. What about Khalid Mehmood? Till his death the only official charge against him was that he was in India without a passport. His family insists: he went to watch a cricket match; lost his passport and was tortured in jail for two years. The contrast could not have been starker and grim.
At this stage, India clearly needs to do something to ease the Pakistani consciousness, to let us believe that it stands by what it preaches; that for Pakistan its media, politics and bureaucracy have something other than biliary feelings of contempt and a superiority complex.
Sarabjeet's sister is active in BJP in Punjab so LK Advani, the BJP's prime ministerial candidate, has written a letter to Pakistani PM urging him to "adopt a bold step and grant clemency to Sarabjeet Singh…such an act of magnanimity will win the goodwill of the Indian people and buttress our common objective in South Asia the pursuit of peace on the sub-continent."
Who will disagree with these words? But will Advani Ji write a similar letter to the Indian President demanding clemency for Afzal Guru? Afzal was, along with three others, accused of masterminding the attack on the Indian parliament in December 2001. He remains on death row despite the Indian Supreme Court in its judgement of Aug 2005 observing that the evidence against him was only circumstantial and that there was no evidence that he belonged to any terrorist group. Unfortunately, far from pleading clemency, Advani had demanded immediate hanging for Afzal; even a day's delay is against national interest, he argued.
The All India Anti-Terrorist Front chief Bitta urges the Indian President not to accept any clemency pleas on Afzal's behalf. He warns his organisation will launch agitation if Afzal was pardoned. Indian star, Shahrukh Khan, whose film Veer Zaara reminds many of the fate of Sarabjeet, too demands clemency for Sarabjeet; but will King Khan be bold enough to demand clemency for another man who was never even provided a lawyer to defend his case?
The problem may lie with India's electronic media. Over the years the whole official narrative of the attack on parliament has lost its credibility thanks in no small measure to the efforts of brave Indians like Nandita Haksar, Arundhati Roy and Harsh Mandir to name just a few. But Indian TV channels forgot to ask the difficult questions; they failed in their duty to update the nation. The result is that even at the end of 2006, an India Today poll showed that 78 percent of the public favours death penalty for Afzal.
Musharraf must be persuaded to let Sarabjeet walk freely to embrace his daughter Swapandeep. But for that to happen, the Indian media and leadership must do some soul-searching. This is all about symbolism and identity and the Indians need to make a high profile noble gesture to ease the tension, to strengthen the persuasive powers of the Pakistani human right activist, Ansar Burni. Advani Ji's kind of hypocrisy won't help.
Moeed Pirzada, a broadcaster and political analyst with GEO TV, has been a Britannia Chevening Scholar at London School of Economics & Political Science. Email: mp846@columbia.edu