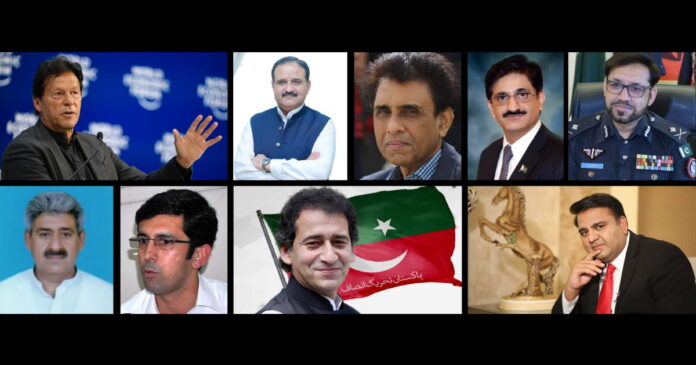 Political system remained under stress from Peshawar to Karachi. It seems as if outgoing Chief Justice, Asif Saeed Khosa, had fired a "silver bullet" through his verdict of November 2019, into the body politic of Pakistan – producing cracks in all possible directions. Since then, PM Imran Khans' ruling PTI is managing an uneasy alliance with almost all its allies.
In the second week of January, MQM's only real member (MQM disowns Dr. Farogh Naseem, the law minister) is left in the federal cabinet, while Khalid Maqbool Siddiqui, the Minister of Information Technology & Telecommunication resigned and despite efforts by PTI leadership has refused coming back to the cabinet – though negotiations and platitudes continue from both sides.
This crack was followed by PML-Q that expressed its dissatisfactions, leading to a fresh round of talks with PTI handled by Khan's troubleshooting team consisting of Jahangir Khan Tareen (JKT) and Pervez Khattak.
PMLQ wanted better access to funds and administrative say in its constituency districts of Gujrat, Chakwal and Bahawalpur, genuine empowerment of its ministers in Punjab and was demanding full implementation of its 2018 Agreement with PTI.
All PMLN sources insist that the party's unconditional support to the Armed Forces (Amended) Act 2020 has empowered the party and increased its leverage with the establishment.
After JKT/Khattak meetings, it looked as if things were resolved – however, during Imran Khan's visit to Lahore, in the last week of January, his inability to meet the PMLQ leadership led to fresh speculations. Earlier, in the third week of January, a strange 20-member strong forward bloc emerged inside PTI Punjab.
Sources claimed that this bloc led by Syed Shahab Uddin, a PTI MPA from Layyah, had the support of around 30 members from South and Central Punjab. This bloc demanded that CM should not make bureaucratic appointments without consulting them and that they need better access to development funds.
Some media sources claimed that this bloc was, in fact, the creation of CM Buzdar, who wanted to shield himself from any possible "Vote of Confidence" in the Punjab assembly in which PTI could have looked for a replacement.
Reportedly, Buzdar feels very insecure after the major administrative reshuffle of November 2019 in which new Chief Secretary Capt. Azam Suleiman and IGP Shoaib Dastgir have been empowered by the Prime Minister turning CM into a mere figurehead.
If this was the case, then Buzdar achieved his desired results; by end January, almost all PTI, including the PM, were standing on one leg and singing that Buzdar is irreplaceable and is not going anywhere.
Dr. Awan, the de-facto Information Minister, was announcing that Buzdar will complete five years, and PM himself was telling the world that Buzdar cannot be replaced. PTI teams also remained busy addressing concerns of allies like BNP-Mengal, Baluchistan Awami Party (BAP) and GDA.
Amidst all this brouhaha, it appeared that PM Khan was inclined to mend fences with the PPP government in Sindh. After his meeting with CM, Murad Shah, in the last week of January, he hinted that the federal government would be willing to consider sending a new IGP to Sindh replacing Dr. Kaleem Imam.
However, this bonhomie was quickly disrupted when its junior ally, GDA, demanded that Dr. Kaleem Imam should not be sent back, and PM's federal cabinet objected to the Sindh's choice of Mushtaq Ahmed Mahar as IGP.
PPP in Sindh has a long history of remaining at loggerheads with all IGP's. Fault lines emerge around transfer-postings and recruitment of sepoys and constables. Between 2016 and 2018, the Sindh government continued fighting to get rid of IGP, AD Khawaja.
There was an interesting triangular political battle involving civil society activists like Jibran Nasir, Courts and Sindh government. First, Sindh High Court and later Supreme Court stopped the PPP government, and it failed to get rid of AD Khawaja.
Even now, the situation is more or less the same. However, this time it erupted around the time when Dr. Rizwan Ahmed, SSP Shikarapur, accused Imtiaz Sheikh, Sindh Energy Minister, and a friend of Asif Ali Zardari, of supporting criminal gangs and being involved in the murder of his political opponents.
PPP, in turn, blames SSP of playing politics and IGP of incompetence. Sindh High Court has stopped the PPP government from surrendering IGP, Dr. Kaleem Imam, till the federal government decides – Jibran Nasir, the indomitable civil society activist, was the petitioner once again.
Kaleem Imam is a highly decorated police officer from 16th Common Training Program (CTP) of Pakistan Civil Services and has served with distinction across Pakistan and abroad and was the No. 1 choice of PPP in 2018 when the new PTI government offered them three names for selecting an IGP replacing Amjad Javed Saleemi who was sent as IGP Punjab.
Imran Khan, in the normal course of circumstances, would have solidly supported IGP, but 17 months of exposure to Pakistan's real politick has made him a bit more practical.
Continued hostility with PPP may not suit him at a time when almost all his allies are trying to extract something out of him. Given this background, it is expected that he will try to win the goodwill of PPP in giving it an IGP of its own liking.
Khosa's "Silver Bullet" & PMLN ambitions?
Nowhere the magic of Khosa's "silver bullet" is more visible than on the morale of PMLN. While Nawaz Sharif has refused coming back from London on health grounds, Shahbaz Sharif is expected back in February or latest by March.
According to Rana Sana Ullah, who is now out on bail – after creating considerable embarrassment for ANF and federal minister, Shaheryar Afridi – this is an election year and Shahbaz has to take important decisions to set things into motion to get rid of the incompetent Khan government.
While this may sound a bit over-ambitious or over-optimistic, almost all PMLN sources insist that the party's unconditional support to the Armed Forces (Amended) Act 2020 has empowered the party and increased its leverage with the establishment.
According to a well-placed PMLN source, "we are now much beyond the stage of the ceasefire". However, that source also agrees that much more work is needed for confidence-building because of the poison created by the anti-establishment posturing of Nawaz Sharif and his daughter, Maryam Nawaz. What does that mean in real terms? No one can be sure at this stage.
While Shahbaz Sharif had always remained a nationalist at heart and under worst of hardships had never confronted Pakistani state institutions, the fact remains that Nawaz and Maryam were seen using their Indian connections as leverage against the Pakistani state.
Will that toxicity end any time soon? Shahbaz may be good-intentioned but cannot hold the political field in Punjab without active support from Nawaz. So, will Nawaz and Maryam play by rules set by Shahbaz? Can this arrangement be trusted by those who matter? How will PM Imran Khan react to all this? There are so many questions but no clear answers.
US president, Donald Trump described Khan as "a very good friend" promised to raise Kashmir with India and said in full glare of world media that relations between Pakistan and the United States have never been that good
While Imran Khan's government remains troubled on the domestic political front – compounded by continuing economic slowdown, its foreign policy performance keeps on giving it breathing space.
So right at the moment when media were attacking the government on its mismanagement of flour supply (Atta Crisis of January) that led to prices as high as Rs. 70/kg across the country, PM Khan was creating a global impact at the annual meeting of World Economic Forum in the Swiss mountain resort of Davos.
US president, Donald Trump described Khan as "a very good friend" promised to raise Kashmir with India and said in full glare of world media that relations between Pakistan and the United States have never been that good.
Crucial other public and corporate figures lined up to meet Khan – including Ivanka Trump, and leadership of global financial institutions. In the same week, Foreign Minister Shah Mehmood Qureshi announced a renewed diplomatic offensive on Kashmir.
From the commentaries in the Indian media, it appears that Indian establishment has lost hopes of pushing Pakistan into "FATF Blacklist" and will now try its best to keep its western neighbor into the grey list at the Paris meeting of Feb 2020.
PM Khan is traveling to Malaysia in the first week of Feb, and Turkish President Recep Tayyip Erdogan is expected to arrive in Islamabad in the second week of Feb.
Whether Khan will be able to fully recover from the loss of face that happened when Saudis blocked his participation in the Kuala Lumpur Summit in December remains to be seen. But one thing is clear: A robust foreign policy continues to be Imran Khan government's saving grace!