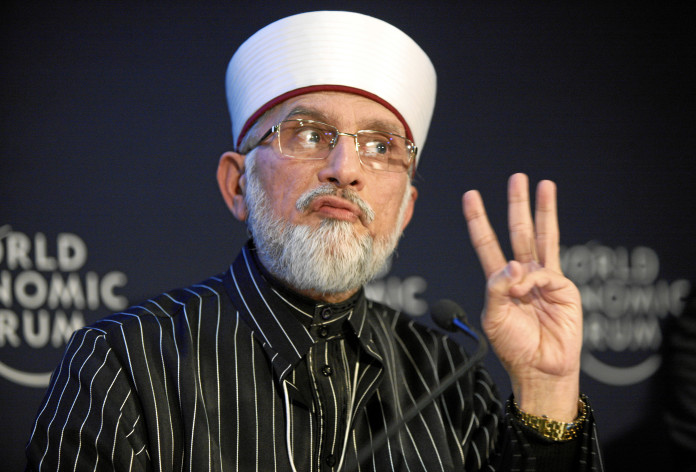 Moeed Pirzada | The Nation |
The debate in Supreme Court of Pakistan regarding Dr Tahirul Qadri's petition has started to send confusing signals with totally unintended consequences for the state and society of Pakistan. Dr Qadri's petition seeks to raise serious issues about the formation of the Election Commission of Pakistan. His public interest petition argues that a procedure prescribed in the constitution of Pakistan for nomination of the members of the Election Commission was not followed.
Dr Qadri is a controversial character in Pakistani politics. Though his demands resonate with popular opinions in the country, most in political corridors consider his sudden appearance on the horizon as a set up by someone "behind the scenes" to derail elections or perhaps even democracy. That someone "behind the scenes" keeps on changing depending upon whom you talk with. From military establishment to Americans, to British to Presidency everyone is a suspect. By now almost all supporters of PML-N and many political analysts are getting convinced that the net effect of Dr Qadri's multidimensional efforts may be to keep the PML-N out of the corridors of power in Islamabad.  A small minority is also convinced that may be Dr Qadri is a crazy genius, a megalomaniac who sees himself as a messiah for the Pakistani people.
The court has graciously admitted his petition, but given this peculiar political climate, rife with doubts, fears and uncertainties is naturally concerned with determining his real motives. Its enquiry makes perfect sense; but at times debates start to create unintended effects and that is where the risk lies.
There may be various flaws in Qadri's petition; perhaps he was not properly advised by legal wizards, perhaps he should have approached the high court. But the unusual focus on his "dual Canadian nationality" is sending signals of a different kind. It appears as if, in this country, we are now arguing that those holding dual citizenship cannot even file public interest petitions. As if we doubt their patriotism, we suspect all their intentions, as if we see them necessarily as agents of foreign powers. Extend the legal arguments and the media debate and it means that they cannot be stakeholders in public interest or public welfare.
If that were true, if this is how modern world and politics and public interest stands today, then how do we explain the sentiments of those countless millions of Pakistanis, who live in foreign lands but rally around Pakistan in every moment of crisis? How do we explain their response during the earthquake of 2005, or the floods in 2010? Why do we boast of Pakistani Diasporas from Britain to Norway? How come we talk of Pakistani lobbies in Washington and London? Why do we expect them to throng streets in Western capitals whenever the home country is in crisis?
If the kind of emotions we exhibit were universal, then Western people should have kicked out all Pakistani Diaspora. If modern politics and statecraft were that simple, then there won't be many characters like Lord Nazir Ahmed, a British peer of Pakistani descent who holds his Pakistani nationality and for more than a decade has stood proudly and fearlessly in the British Parliament raising concerns that often irritated many in Whitehall or Foreign Office.
Legal arguments have to be precise, truth has to be discovered, but there are always underlying assumptions, prejudices and beliefs that govern our arguments. Our obsession with "national interest" had been legendary and has mostly hurt us over the past 60 years, but now it appears that in the new media debate we are trying to define "public interest" in a very narrow spectrum. If these were just arguments in a court case, then it would not be that problematic, but it now appears symptomatic of some deep-seated fears or prejudices of national psyche suited to a different era of human history. It is interesting to take a quick glance at how we have reached this stage?
Many in the politics and media wanted to target and bludgeon certain politicians in key positions; nothing worked so it was pointed out that "dual nationals" violate the constitution. While many have been thrown out, those against whom the "original angst" existed are still there. Now Dr Qadri is definitely controversial and may have an agenda, but if our arguments to expose him end up creating a moral and political disconnect between Pakistan and its Diasporas; if this encourages mentality more suited to the 19th century, then we are risking something much bigger for the state of Pakistan and its welfare in a global village of myriad interdependences.
The Bank of England sets the monetary policy and directly affects all British lives. This historic apex policymaking institution has recently named Mark Carney as its new Governor. Mr Carney brings an amazing experience of global markets and financial regulation. But he is a Canadian whose only connect with Britain is his wife who is a dual citizen of both Canada and Britain. In 1985, a small airline was conceived with a start up capital of $10 million from the public exchequer. Its first MD, "Maurice Flanagan" was a British, who also leased an Airbus 300B4-200 from a successful regional airline. The start up of an airline was Emirates and that regional airline was PIA. Today Emirates, with scores of European executives, flies to more than hundred destinations; its business success has created an unprecedented challenge for the American and the European carriers. And what about PIA?; it's burdened under unmanageable losses and people are increasingly afraid of taking a flight. But the way we define national interest – and now public interest – I am sure, we will have a heart attack if someone will suggest that let us select the best man to run PIA; let us shop around the world, let him be a German, or Canadian or Turk or Malaysian, but let us enhance our public welfare and public interest. This is where we stand in history and if the court and public debate around Dr Tahirul Qadri's petition has strengthened our inherent fears and prejudices, then we are certainly moving backwards and not forwards. Let us be part of the 21st century and let our laws and institutions reflect that confidence.