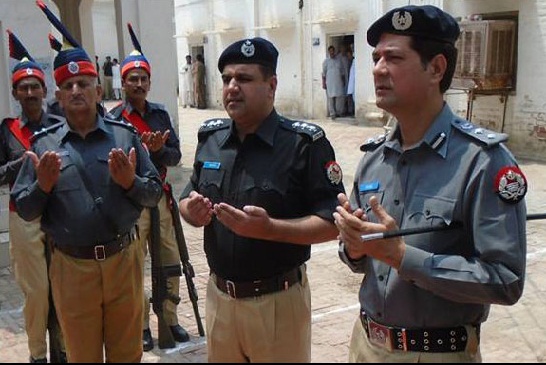 Shariq Kamal Siddique, District Police Officer (DPO), Bahawalnagar, has been summarrily removed from his position, and surrendered to Centre after he refused apologizing to the local MNA for arresting his aide who had thrashed policemen at a check post. Notification of his removal has been issued by the Chief Secretary Punjab, Capt Zahid Saeed. What kind of governance you expect in a province where "Heads of District Police" can be treated like this; removed summarrily without any due process of law? just at the displeasure of the King? And you call this a 'democracy'?
According to initial media reports from Bahawalnagar, young DPO, Shariq Kamal, known for his integrity took action against the close aides of a local strong man – MNA Lalika – who were intercepted in a drunken state at a police check post and who getting berserk then thrashed the policemen on duty. It is important to remember that Bahawalnagar is a border town with India and check posts are routine.
MNA complained to the Prime Minister. There are some reports, though not confirmed, that he initially complained to the Chief Minister, Punjab, Shahbaz Sharif, who refused taking action against the District Police Officer for doing what a good police officer should have done. But then MNA reached up to the Prime Minister. According to the media reports reaching Islamabad, IGP Punjab Mushtaq Sukhera called the DPO and told him that he should go to the local MNA's house and apologize to him and his aides otherwise he will loose his coveted position as head of district police and will be thrown out of the province.
DPO Shariq Kamal Siddique chose the second option. He refused apologizing to the MNA for doing what he considered the right thing to do as the head of district police. On his refusal he was immediately sacked and a notification has been issued surrendering him to the establishment division in Islamabad. Imagine the centralization, the control of the ruling elite on a province of 120 million? imagine the power dynamics when a ruling family, a ruling dynasty controls both Lahore and Islamabad? And keep in mind that in real local governments, as across the western world, district police would be the master of the district, answerable to the district government or courts.
This incident once again demonstrates the priorities of political elite in Pakistan, especially in Punjab and Sindh, and underscores the risks and the challenges the young police officers – especially of the prestigious CSS cadre – face while trying to full fill their constitutional responsibilities towards the state and the citizen. Young and imbued with the idealism, fresh from universities and academies they often try to live up to the best practices and standards of policing and the political system instead of rewarding these officers for their integrity and principles often punishes them in its narrow selfish interests.
Another example that immediately comes to the mind is that of the former SSP Islamabad, Mohammad Ali Nekokara, who in August/September 2014 offered reasoned arguments to IGP Police and Secretary Interior, for not using 'additional brute force' against the demonstrators in Islamabad and who was suspended and later sacked from the job. He is still awaiting justice from service tribunals and courts. Nekokara's hesitation came immediately after the night of violence in which few demonstrators died and hundreds were injured. Police that night even barged into the emergency wards of Pakistan Institute of Medical Sciences (PIMS) – a scene which I personally witnessed at 4am in the morning. I was still at Express News. This was few days before I and Fawad Ch were unceremoniously packed off from the channel under pressure from somewhere.
Though SSP Nekokara and police force under him kept on battling with the crowds all night, till the next evening but later he argued, in his written messages, to Secretary Interior and IGP that using any more force against the demonstrators would be counter-productive. He issued written instructions to Islamabad police not to use firearms without his permission. He was  in fact refusing to obey oral orders from above, from his political bosses, of 'dealing strongly' with demonstrators without any written instructions from these political bosses. He wanted clarity.
That situation had a background. In June 2014, Punjab Police ended up killing more than 10 men and women in Model Town Lahore. Almost a hundred received bullet injuries. That was an act purely of state terrorism. Police were sent to the precincts of 'Minhaj ul Quran' under the excuse of removing barricades; as if it was an administrative matter. Real purpose was to terrorize the followers of Dr. Tahir ul Qadri, the self styled Scholar politician – whom many suspected of dancing on the whims of establishment – who had declared his intentions to return back to Pakistan and launch a movement.
For details of the incidents and how police were exploited read this article written in July 2014: Pakistani pipe dream: Democracy sans independent police?
Punjab government then wanted to teach his followers a lesson before his return. Political objective – disguised as routine administrative action – was to terrorize and intimidate people before a movement could be launched. Situation got out of hand, people died and almost hundred received bullet wounds. Plan of the political geniuses backfired. And when the political strategy failed, when whole country, political parties and media protested Punjab police and its officers were made the scapegoat. Today, more than two years after that broad day massacre real people responsible – the politicians who planned and approved all those wanton acts of terrorism in series of meetings in Lahore and Rawalpindi – have not been punished. But several police officers have lost their jobs or are behind bars.
In Aug/September 2014 that incident was still fresh in memories. Police officers wanted to avoid 'another Model Town' at all costs. They, being inside the system, fully understood that police is being used as 'political condom' as 'expendable underdogs' by the ruling family to further its personal interests and they wanted to resist situations, pushed forcibly through oral orders, that get out of control. These were the circumstances in which SSP Mohd Ali Nekokara demanded clarity, he wanted written instructions. Professionalism demands that Police Officers should be independent in dealing with the situations of law and order. It is the 'police officers' and not their 'political bosses' who have to decide course of action; use of force: when? how much and where?. This is something that has never been understood in Pakistan's troubled history. Police have become 'private servants' of political elite, who use, misuse and exploit them for their personal ends, personal control. Pakistanis have become slaves of these few thug families.
Fortunately, now at least in one part of Pakistan – the small province of KPK – there is emerging a different model of policing; Police independent of its political bosses. And the results are amazing. In the recent tragedy near Abottabad, near Donga Gali, where poor Ambareen was burnt alive, it was the local DPO, Khurram Rashid, (of 32nd Common) who was taking all decisions; from investigations to arrests. No Chief Minister rushed for photo-ops, no ministers and party heads made sensational statements or promised 'exemplary punishments'. It was professional policing at its best.
Shariq Kamal Siddiqui and Mohd Ali Nekokara will soon be the heroes of a new generation of police officers and civil servants in Pakistan. The way they have been treated exhibits the mentality, the ruthlessness and political expediency that defines the politics of Punjab and PMLN. The plight of these upright young officers helps understand why almost all senior officers lack moral courage and initiative; why they all look like helpless, intimidated personal servants of Pakistan's ruling families, these dynasties, and why police instead of serving the people of Punjab and Pakistan only serves these few families. It is time to think hard and deep about these issues of political abuse and corruption; its time to change this moribund system of 'elite family control' in the name of 'democracy'. Its time for real democracy and rule of law in Pakistan. Its time to spread this message. May Allah help us all! Amen!