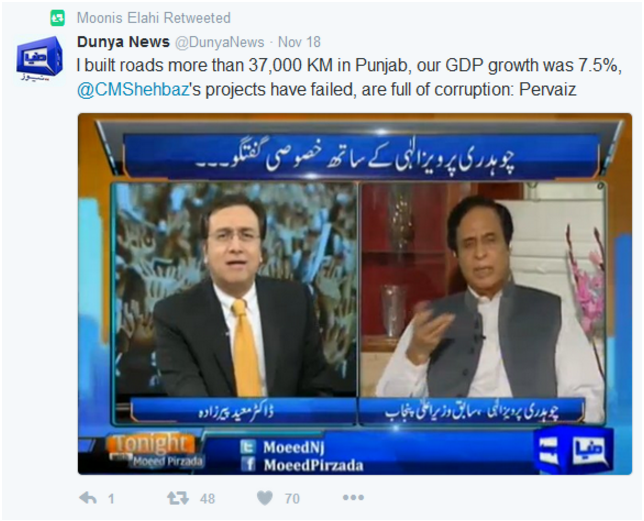 PMLN is famous for building roads and does not shy away from taking full credit of it. They are known to even take credit for most of the work they have not initiated but have become a part of its completion. Known to remain in the spotlight through advertisements and displaying banners on Mall road Lahore, CM Punjab Shahbaz Sharif has become the most prominent politician of the country.
Former Chief Minister Punjab Chaudhry Pervaiz Elahi appeared in a TV interview on Dunya TV and when asked the question about his performance in Punjab said, "I have built roads more than 37,000 KM in Punjab". When asked why doesn't the public remember those roads, he answered in the most humble way that his government's priority was to serve the people of Punjab and not use their tax money for personal glorification.
Moonis Elahi, son of former CM Punjab Chaudhry Pervaiz Elahi has been a member of the Punjab Parliament since then and played an active role during his father's tenure. Being a young politician he was mostly assigned tasks which would help him understand politics of Punjab and hone him to become a good future leader. Moonis Elahi wasn't present in the Dunya TV interview but was discussed more often in it.
During the PMLQ era, Punjab had a record GDP of 7.5% and people's lifestyle was greatly alleviated during that period. Moonis Elahi was tasked to learn as much as was possible and neither he nor his father ever used taxpayers money to glorify their acts of good governance. The former CM also recalled his social welfare projects and Rescue 1122 is one of their greatest gifts to the nation for it is a one of kind ambulance service which has the ability to cope with international standards.
Moonis Elahi pointed out Shahbaz Sharif works in a different fashion and he is known to sabotage or completely shut down the projects of his opponents without thinking about the effect it will have on the poor nation. PMLN's vindictive policy has done this country great harm but since their advertisements are too strong and targeted, people tend to forget the good works of the previous governments and think every positive work done is by the PMLN.
When asked during the interview by host Dr. Moeed Pirzada about the future of Moonis Elahi in future politics, Chaudhry Pervaiz Elahi said that his son was ready to enter politics and he has matured now. It would not be wrong to say that among the young politicians, Moonis Elahi & Hamza Shahbaz are the only ones who have been a part of a government. Bilawal Zardari has now entered politics, holding rallies and delivering thunderous speeches but has zero experience of are the duties of a political leader.