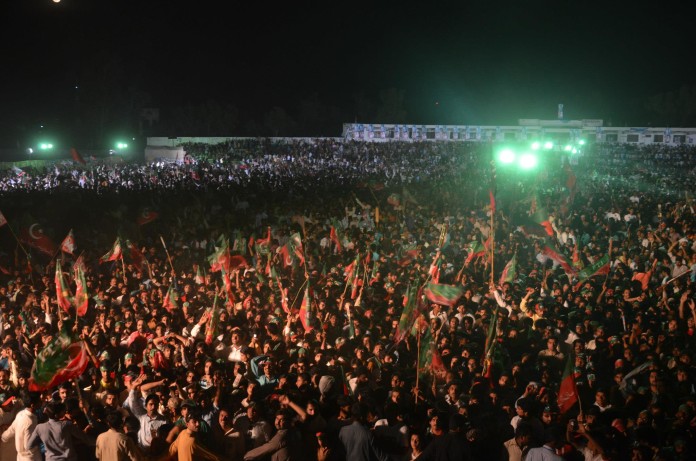 Moeed Pirzada | FB blog |
Faislabad represents an interesting challenge for both PTI and PMLN. Imran Khan had threatened to block cities but then in subsequent explanations PTI leaders made it clear that "closing city" does not mean forcing traders to shutter down, so what does it mean? does it mean sitting down of hundreds of small crowds at important cross-sections and not letting traffic pass? so far this looks like the plan which can work in any city but Faislabad with its key roads all originating outwards from the city circle of Ghantaghar is ideal for this.
PTI's weakness is its perceived "sharafat" and "non-violence" which is the defining line of Pakistani power politics because country unfortunately, at all levels, from gali,mohalla, street and college to work place is controlled by "badmash people" and traditional political parties have large number of such "badmash" who control situations by threats or actual violence.
Pakistani educated middle classes – without whose participation country cannot progress – have not been able to play their role in politics because they abhor street violence. They look towards the state (District Admin, Police and Army) to provide an atmosphere to conduct their lives peacefully but Pakistani state – except the military – has been penetrated and controlled by the "badmash/street urchins" and all power in Pakistan ultimately belongs to "gunda elements" so PTI and Imran Khan are struggling to set a new trend; they want to challenge PMLN by showing that they can bring cities to stand still without doing the violence PNA did in 1977. Will they be able to do it in Faislabad today? We will find out in the next few hours, after 3pm, and we will start analyzing it then..
But PMLN govt challenge is also not easy; if crowds such sit and stop traffic then how much force Police can exert to dislodge them? and how will it use Police to disentangle PMLN workers from PTI workers? already last evening clashes in Faislabad already created a shut down kind of situation; any repeat of such scenarios in few places of Faislabad with tv cameras covering it will give PTI what it wants.. if you look at the hundreds of "Govt of Pakistan Ads" which are appearing on all TV channels after every few seconds you can part of the PMLN strategy to demonize PTI; the worst part of these party adverts is that they have been paid by Govt of Pakistan ie all of us…