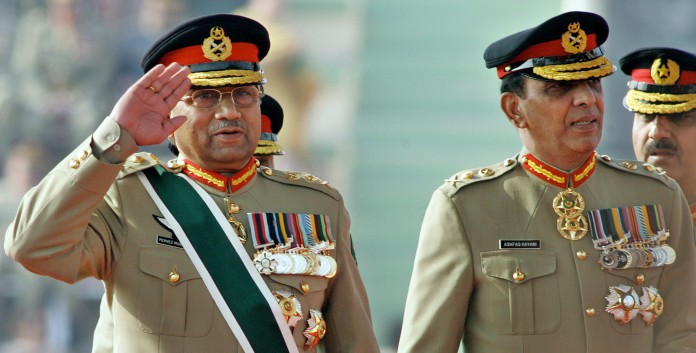 Moeed Pirzada | FB Blog |
A palace coup could be in the offing in nuclear-armed Pakistan as pro-Taliban army generals try to undermine democratically elected civilian government of President Asif Ali Zardari.
First indications that something foul was afoot in Islamabad came on the weekend when Pakistan's top four military officials, including powerful Chief of Army Staff Gen. Ashfaq Parvez Kayani became conspicuous by their absence at a state banquet hosted by President Zardari for the visiting President Gurbanguly Berdymukhammedov of Turkmenistan. For Pakistan watchers, the presence or absence of the top military leadership at events organized by a civilian government is an indication of the state of relations between the Pakistan's poweful power-hungry military and the weak civilian administration in Islamabad. The obvious boycott of a state dinner hosted by Pakistan's president by his top generals and admirals, who are supposedly answerable to him, was not the only signal that something sinister was taking place.
The absence was followed by the resignation from the ruling party by the former foreign minister, which too was suspected to have come after prodding by the military. The latest tug of war between the government of president Zardari and his generals erupted on October 11, 2011 when the Financial Times ran an op-ed titled "Time to take on Pakistan's Jihadis." In the article, Mansoor Ijaz, a Pakistani-American businessman, claimed he was contacted by a senior Pakistani diplomat close to President Zardari and asked to contact Admiral Mullen to prevent a military coup from taking place in Pakistan. The military was outraged and wanted heads to roll. Ijaz wrote: "Early on May 9, a week after US Special Forces stormed the hideout of Osama bin Laden and killed him, a senior Pakistani diplomat telephoned me with an urgent request. Asif Ali Zardari, Pakistan's president, needed to communicate a message to White House national security officials that would bypass Pakistan's military and intelligence channels.
The embarrassment of bin Laden being found on Pakistani soil had humiliated Mr Zardari's weak civilian government to such an extent that the president feared a military takeover was imminent. He needed an American fist on his army chief's desk to end any misguided notions of a coup – and fast." Ijaz further claimed that a memo was drafted and delivered to Admiral Mullen on May 10. "In a flurry of phone calls and emails over two days a memorandum was crafted that included a critical offer from the Pakistani president to the Obama administration: 'The new national security team will eliminate Section S of the ISI charged with maintaining relations to the Taliban, Haqqani network, etc. This will dramatically improve relations with Afghanistan.'" The pro-military media in Pakistan suggested the diplomat in question was Pakistan's ambassador the U.S., former Boston University professor, Husain Haqqani –a man not liked by his country's Jihadis, whether civilian or military.
Both Admiral Mullen and Islamabad denied that any such back door diplomacy had taken place, but the denials could not put out the fire. What was ostensibly written as a critique of Pakistan's jihadi extremists in fact turned out to have the exact opposite effect. In a country where anti-Americanism is rife, the elected civilian government was made out to appear as lackeys of the U.S. Could the writer have intended to weaken the government and strengthen the military? Mansoor Ijaz is not new to controversy. According to the International Herald Tribune's Pakistan edition, "a deeper look into Ijaz's background provides evidence that this hasn't been the first time the influential businessman has raised controversy concerning his alleged role as a secret international diplomat."
The IHT discloses that : "In 1996, he was accused of trying to extort money from the Pakistani government in exchange for delivering votes in the US House of Representatives on a Pakistan-related trade provision. Ijaz, who runs the firm Crescent Investment Management LLC in New York, has been an interlocutor between U.S. officials and foreign government for years, amid constant accusations of financial conflicts of interest. He reportedly arranged meetings between U.S. officials and former prime ministers Benazir Bhutto and Nawaz Sharif. He also reportedly gave over $1 million to Democratic politicians in the 1990s and attended Christmas events at former President Bill Clinton's White House. Ijaz has ties to former CIA Director James Woolsey and his investment firm partner is Reagan administration official James Alan Abrahamson."
Anywhere else a civilian diplomat warning directly or indirectly against a military coup would not be deemed wrong in itself. But in Pakistan, a civilian Prime Minister was toppled and arrested (Nawaz Sharif, in 1999 by General Musharraf) for simply trying to assert civilian control over the military. Even if Zardari and his diplomat had, as Ijaz claims, asked Ijaz to contact the American government to use its influence against a military coup, there was nothing unlawful or unconstitutional in what he did. But in Pakistan, Ijaz's claims have provoked circumstances that are threatening at least the sacking of a respected ambassador and possibly undermining civilian rule. Knowing the workings of Pakistan's intelligence services, Ijaz's article could have been part of a plan by the ISI to destabilize Pakistani democracy once again.
On Monday, the moves by the military triggered a closed-door meeting between President Asif Ali Zardari and the country's dour Prime Minister Syed Yusuf Raza Gilani followed by another meeting between Zardari and the Chief of Army Staff Gen. Kayani. The generals are adamant. President Zardari has being asked to summon his ambassador to the U.S. back to Islamabad for a full dressing down by the junta. According to the Pakistani newspaper The News, President Asif Ali Zardari and Prime Minister Syed Yusuf Raza Gilani decided on Monday to call Hussain Haqqani, Pakistan's Ambassador to Washington, to Islamabad to brief the country's leadership on a host of issues impacting on Pak-U.S. relations and recent developments." Long before Haqqani was appointed as Pakistan's ambassador to the U.S., he had exposed the close links between the Pakistan military and the country's Islamist jihadis in his book, Pakistan: Between Mosque and the Military.
For that sin, the men in boots have never forgiven the man they cannot control. Haqqani, described by Bloomberg as the "hardest working man in DC," has been in the sights of the Pak Army and its intelligence wing, the ISI, who do not trust the academic. They fear he has exposed their attempts to double-cross the USA and as such want his skin as a price for allowing Zardari to stay in power. The developments in Islamabad and the demand by the army to fire Haqqani should also be seen in light of the sudden rise in the profile of Pakistan's leading pro-Taliban politician, former cricketer Imran Khan. The establishment in Pakistan has run a brilliant campaign to project Khan as both a patriotic Islamist as well as a liberal. Using his Oxford background, he cultivates the ultimate anti-American modernist who has charmed the urban middle classes as the 'non-politician.'
Because of the Kerry-Lugar Bill, the army cannot overthrow an elected government as it used to do in the past, but the generals and the ISI are propping up a Khan and demanding the firing of the liberal Haqqani. The sad part is that Islamist influence inside the U.S. State Department may result in a nod of approval to the Khakis to trigger a civilian coup. If Ambassador Haqqani is fired, can president Zardari be far behind?