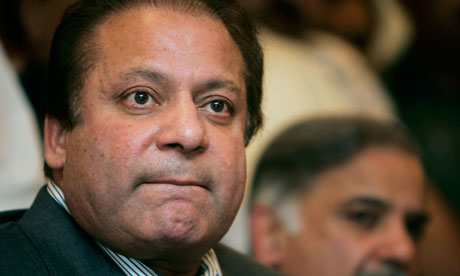 Living like a king — Sharif's litany of abuses
News Intelligence Unit
By Kamran Khan
The News, 2000
[Note: the paras in italics, towards the bottom of the article, provide details of the London apartments and offshore accounts in the year 2000] 
KARACHI: While constantly pleading with expatriate Pakistanis to send their hard-earned dollars to their motherland, former prime minister Nawaz Sharif caused a dent of at least Rs 110 crore to the national exchequer through the 28 foreign trips he undertook after assuming power on February 17, 1997.
Official documents seen by the News Intelligence Unit (NIU) disclosed that about Rs 15 crore were spent from the tax-payers money for Nawaz Sharif's six Umra trips. For almost each of his foreign visits, Nawaz Sharif used his special Boeing plane that he had promised to return to PIA for commercial use in his famous national agenda speech in June last year.
Almost unbelievably, instead of keeping his promise to return this special aircraft to PIA, Sharif ordered an extravagant US$1.8 million renovation of his aircraft that turned the Boeing into an airborne palace. While reading sermons on austerity to the nation on almost every domestic tour, on this aircraft — on which all the seats were in a first class configuration — Nawaz Sharif and his entourage would always be served a specially-cooked, seven-course meal. PIA's former chairman Shahid Khaqan Abbasi had, in fact, hired a cook who was familiar with Sharif's craze for a special type of 'Gajrela' (carrot dessert).
While aboard his special plane, Sharif was always served 'Lassi' or Badami milk in a Mughal style silver glass by a crew of his choice. Even on domestic flights, Sharif and his men would be served with Perrier water, not available even to first class domestic passengers. The towels he would use on board, had golden embroidery.
Not for a moment, after making his historic promise to the nation in June last year for leaving the palatial prime minister house for a modest residence in Islamabad, did Nawaz Sharif show any intention to leave the prime minister's palace. On the contrary, soon after that speech, the Prime Minister House received fresh supplies of imported crockery and groceries.
Some of the permanent in-house residents were Sharif's personal friends, including one Sajjad Shah who used to crack jokes and play songs for him. Sharif's little-known political mentor Hasan Pirzada, who died last month, always lived at the Prime Minister House. Sources estimate that Pirzada's daily guest-list to the PM House numbered around 100 people who were always served with meals or snacks.
In the first year of Nawaz Sharif's second term in power, Hamid Asghar Kidwai of Mehran bank fame, lived and operated from the Prime Minister House until he was appointed Pakistan's ambassador to Kenya.
While making unending promises of instituting merit in all appointments and selections, Sharif played havoc with the system while issuing personal directives by ordering 30 direct appointments of officers in the Federal Investigation Agency (FIA). While Sharif was ordering these unprecedented direct appointments, his crony Saifur Rahman was seeking strict punishment and disqualification of former prime minister Benazir Bhutto for making direct appointments in Pakistan International Airlines.
Out of these 30 people who were directly appointed on posts ranging from deputy director to inspector in the FIA — without interviews, examination or training — 28 were from Lahore and were all close to the Sharif family or his government. One of the lucky inductees was a nephew of President Rafiq Tarar.
Nawaz Sharif had such an incredible liking for his friends from Lahore or Central Punjab, that not a single non-Central Punjabi was included in his close circle, both at the political or administrative levels in the Prime Minister's Office. At one point, during his tenure, there was not a single Sindhi-speaking active federal secretary in Islamabad.
For about the first 18 months of Sharif's second term in office, 41 of the most important appointments in Pakistan were in the hands of individuals who were either from Lahore or Central Punjab, despite the total lack of representation of smaller provinces in State affairs. Sharif stunned even his cabinet by choosing Rafiq Tarar for the post of President.
His activities were almost totally Lahore or Punjab focussed, reflected by the fact that in the first 16 months of power, he had only one overnight stay in Karachi. Conversely, he held an open Kutchery on every Sunday in Lahore, a gesture he never showed in any of the smaller provinces.
Nawaz Sharif, who had always promised a 'small government' ended up with no less than 48 people with the status of a federal minister in his cabinet. Ironically, less than fifteen per cent of the people in 49-member cabinet came from the three smaller provinces.
While anti-corruption rhetoric always topped his public speeches, Nawaz Sharif demonstrated tremendous tolerance for corruption as he completely ignored strong evidence laden corruption reports against Liaquat Ali Jatoi and his aides in Karachi.
Sources said that volumes of documents on the corruption of Liaquat Ali Jatoi, his brother Senator Sadaqat Ali Jatoi, the then Sindh health secretary and several of Liaquat's personal staff members were placed before Nawaz Sharif, but he never ordered any action. These sources said that Nawaz Sharif also ignored evidence that showed Liaquat's newly discovered business interests in Dubai and London.
Informed official sources said that Nawaz Sharif also ignored reports, even those produced by Shahbaz Sharif, about rampant corruption in the Ehtesab Cell (EC). Shahbaz Sharif and several other cabinet ministers had informed Sharif that Khalid Aziz and Wasim Afzal, Saifur Rahman's right-hand men in the EC were involved in institutionalised corruption through extortion from Ehtesab victims and manipulation of the Intelligence Bureau's secret funds.
Sources said that the Ehtesab Cell had issued official departmental cards to one Sarfraz Merchant, involved in several cases of bootlegging and another to Mumtaz Burney, a multi-billionaire former police official who had earlier been sacked from the service for being hand in glove with a notorious drug baron. Sharif was told that these two notorious individuals were serving as middle men between Khalid Aziz, Wasim Afzal and those sought by the EC both here and abroad.
Fully aware that Khawer Zaman and Major General Enayet Niazi were amongst the most honest and upright director generals of the FIA, he booted them out only to be replaced by handpicked cronies such as Major (Retd) Mohammad Mushtaq.
Sources said that while posting Rana Maqbool Ahmed as the Inspector General Police, Sindh, Nawaz Sharif was reminded by his younger brother Shahbaz Sharif about his reputation as one of the most corrupt Punjab police officers and also about his shady past. But Nawaz Sharif not only installed Rana as the IGP, but also acted on his advice to remove Gen. Moinuddin Haider as the Governor Sindh.
In a startling paradox, right at the time when the government media campaign was at its peak about the properties of Benazir Bhutto and Asif Ali Zardari in Britain, particularly Rockwood estate in Surrey, disclosures came to light about the Sharif family's multi-million pound apartments in London's posh district of Mayfair.
The apartment No: 16, 16a, 17 and 17a that form the third floor of the Avonfield House in Mayfair is the residential base for Sharif family in London. Records show that all those four apartments were in the name Nescoll Ltd and Nielson Ltd Ansbacher (BVI) Ltd, the two off-shore companies managed by Hans Rudolf Wegmuller of Banque Paribas en Suisse and Urs Specker — the two Swiss nationals alleged to be linked with Sharif's offshore fortune.
In a knee-jerk reaction last year, Sharif first denied the ownership of those flats. Later, his younger son Hasan Nawaz Sharif said the family had leased only two of the flats, while their spokesmen, including former law minister Khalid Anwer, said that Sharif had actually rented those flats.
But what will count with legal experts is the fact that in their tax returns, none of the Sharif family members had ever showed any foreign ownership of any properties, nor had their tax returns listed payments for any rented apartments abroad.
"With the sale of these Mayfair apartments, you can buy three Rockwood-size properties of Asif Zardari," commented a source, who added that Sharif's third party owned properties in Britain may land them in a crisis comparable only with Benazir and Zardari's cases abroad.
In another example of hypocrisy, while Sharif geared up his government's campaign against loan defaulters in Pakistan, a High Court in London declared his family a defaulter and ordered them to pay US$ 18.8 million to Al-Towfeek Company and its subsidiary Al-Baraka Islamic Bank as payment for interest and loan they had borrowed for Hudabiya Papers Limited.
The court papers said that the Sharifs refused to make payments on the principle amount and instead directed official action against the Arab company's business interests in Pakistan. Informed sources said that a few days before the fall of the Nawaz Sharif government on October 12, lawyers representing the Sharif family were busy in hectic behind-the-scenes negotiations with Al-Towfeek executives in London for an out-of-court settlement. These sources said that negotiations in London broke down soon after the army action in Islamabad.
While Nawaz Sharif deployed the entire state machinery and spent millions of dollars from the IB's secret fund to prove money-laundering charges against Benazir Bhutto and her husband abroad, his government crushed any attempt by the FIA to move the Supreme Court of Pakistan against a decision handed down by the Lahore High Court absolving the Sharif family from money-laundering charges instituted against them by the last PPP government.
FIA officials who had investigated the money-laundering charges against the Sharifs faced termination from service, while the agency was told that even a decision to probe money-laundering was a crime. This particular case is likely to now go to the Supreme Court in the next few weeks.
[Note: Actual link of this article is not available on the net; this is a piece from 'The News' written by prominent Anchor person, Kamran Khan, who then headed the 'News Intelligence Unit. This piece was written somewhere in year 2000, when cases against the Sharif family were still running in courts, after Musharraf's take over. Importance of the article lies in the allegations, the references towards London Apartments, and the Offshore Accounts, being made then in the year 2000]