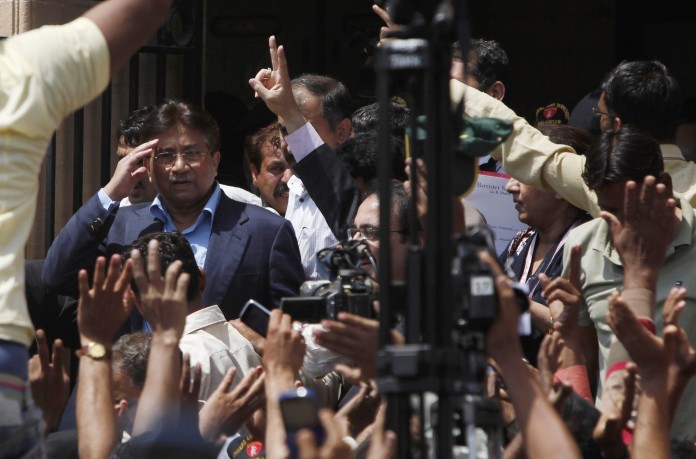 Moeed Pirzada | Khaleej Times |
It is Karachi. We are all standing, pushing and shoving, outside the offices of Jang, Pakistan's largest paper. This private compound, off the famous II Chundrigarh Road, was packed to the last inch. We are here to protest the continuing ban on country's largest TV network.
Most of us work for either the Jang, The News or the GEO, but I spot faces from the Dawn and the CNBC and other TV channels. Like everyone around me, I had two candles, one in each hand. Flames tremble in Karachi's evening breeze and we struggle to keep them alive; for they are: Flames of Freedom.
Surrounded by cameras and large plasma screens that capture and display our gyrating bodies, we all are singing: "jeenay do, jeenay do, logo ko zinda rahnain do (…let us live, let us live…let people live their lives)". These are the only screens on which we can see ourselves; all the GEO channels — even the sports and entertainment — have been banned. On three sides, the walls of the compound surround us, and towards the only exit: policemen look on, amused. Like the media in Pakistan, we are also under siege.
I have just moved here from London. And General Musharraf's "emergency plus" has followed me. Doubts about the sanity of my own move only multiplied. But today looking around, I am happy. I think I made the right decision. Air is rife with a passionate belief for change; this is the new Pakistan we used to dream of. But yet, this scene has an eerie resemblance to Antonio Banderas's 'House of Spirits' the movie set in the context of Allende's Chile. Then it was Henry Kissinger, and we just had a visit by John Negroponte. On whose side they are this time? We still don't know. Perhaps we will never know.
With the imposition of "emergency plus", all TV channels had suddenly disappeared. From media regulator, PEMRA, we learnt that the cable operators have voluntarily taken off the news channel in 'higher national interest'. Oh really? However, soon the government produced a 14 pages 'Code of Conduct', demanded that certain anchors be fired and the new interim set up be supported by the media. Those who signed on the dotted line, or just agreed in private, were allowed back — one day before the visit of Negroponte. Impressions are always more important than the reality.
But for some more special treatment was reserved. GEO and ARY, the biggest of the news networks, remained blocked on the cable networks. In case of GEO, its sports, youth and entertainment channels were taken off as well. GEO Sports had the exclusive rights to Indo-Pakistan cricket series. Ptv was to show it, on its terrestrial arm, as part of the contract. All gone. People sulk in disbelief and disappointment and the network has to suffer a loss of US$15 million, for cricket alone. But who cares? These niceties matter when you have rule of law. Since 99 per cent of viewerships watch the independent channels on cable that means practically these channels are unavailable in Pakistan. Yet Gen Musharraf decides to pressurise a friendly country to stop their broadcasts. Why? Because diasporas were watching them? I think hard, but there is no easy answer.
Pakistani novelist, Mohsin Hamid, thinks that General Musharraf was pushed into his desperate steps — ie emergency plus — by the intransigent judges, idealist lawyers and the irresponsible media. His arguments go to the heart of the debate, "transition versus transformation", that raged across Daily Times, a Lahore-based paper, some weeks ago. Prominent author Ayesha Siddiqa sparked it when she criticised the editor, Ejaz Haider, who had argued that Pakistan needed a smooth transition. Ayesha, like many others in the lawyers' movement, had believed that what Pakistan really needs at this stage is a transformation; a real change of the system. And I think Aitzaz Ahsan was a transformationist, at least from the days when he published his book, "Divided by Democracy" co-authored by Lord Desai.
But I am not much of a romantic journalist. Henry Kissinger's Diplomacy used to be my holy book; in the discipline of international politics I strongly identify with what is called 'realism' and in all these years since 1999, I had strongly believed that General Musharraf and his benevolent dictatorship is needed for the continuing growth and stability. My friend Ayesha Siddiqa had always called me a Musharraf stooge; she even suspected that I am perhaps on the pay roll of one or the other agency. And when Ayesha was sparring with Ejaz Haider I firmly believed that Ejaz was right and Pakistan needed a smooth transition.
Today, the eminent barrister is languishing in Adiala Jail and the noted author is staying away from the country. So can we argue that those who believed in 'transition' have won the argument? Unfortunately, sometimes you lose by winning. Today I, like many others, believe that the General may have been a good man, but he has lost his plot — and he has lost it miserably. And, moreover, unlike Mohsin Hamid and many others, I am not even convinced that our good general was just pushed, by a few intransigent judges or irresponsible media anchors, into taking his steps. His acts since the terrible November 3 look far too scripted; and when we look more closely at his regimen for the media it becomes obvious that he wanted to paint with a broad brush.
The new Supreme Court disposed of five constitutional petitions related to the general in the course of a single day. A real court, however responsible it may be, will find it difficult to become such an efficient tool. It was not about a few judges; it was about the overall confidence the judiciary had acquired through its own convoluted journey. So could it be about a few anchors? Should we be so naïve to buy that a government that can hold on its own against the advice of its financial supporters — Negroponte and company — is really stuck at four of five men and women? Even when they have no real authority?
No sir! This is a bigger and more ambitious plot. Jang/GEO network is now the only media group that is still standing; it is losing almost a million dollars a day; soon it won't have any liquidity to pay salaries to thousands of its workers. The Musharraf government wants to financially cripple this most popular of the media community to set an example — just like the judiciary. What he needs from the media is the kind of unquestioned loyalty PCO judges owe him. And that is why general Musharraf made that extra-regional leap, interfering in the laws of a friendly country, to silence the broadcasts that were blocked in his country anyway. He wants a quick capitulation, for the next stage: managed elections with desired results, without anyone to hold the mirror. But then they say: there is many a slip 'twixt the cup and the lip.