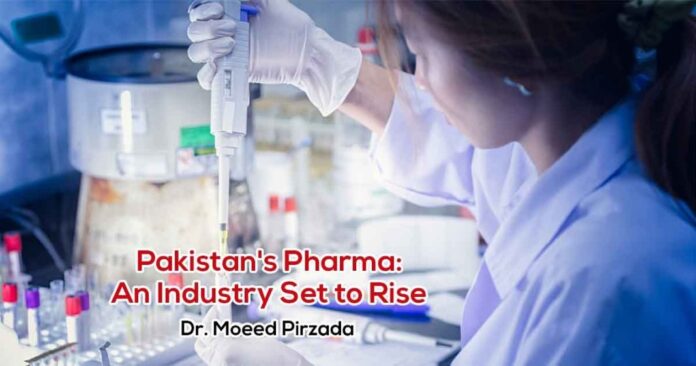 When in September of 2021 (16-17 Sept), Pakistan's PM Imran Khan dashed to Dushanbe, Tajikistan, to attend SCO's 20th summit, there was another little-noticed activity going on beyond the glare of tv cameras.
On Sept 14, Sixty-six Pakistani businessmen also reached Dushanbe – 13 of them were CEO and top decision-makers of the country's pharmaceutical industry. This represented an initiative by Pakistan's Ministry of Commerce. Trade and Development Authority (TDAP), an autonomous wing of the ministry, had arranged a specially chartered plane, from PIA, for this trip.
On Sept 16, when PM Imran Khan addressed the first-ever Pakistan-Tajikistan Business Forum in a local hotel, pharma executives were busy meeting and signing MOUs with their counterparts from across Tajikistan. In July, when PM Khan had visited Tashkent, Uzbekistan, few pharma executives also accompanied him.
On Sept 29, Pakistan Pharma Manufacturer's Association (PPMA) held its first-ever Exporters Summit & Awards Ceremony (PESA-21) in Islamabad's Serena Hotel; fifty exporters were shortlisted for awards on the recommendations of TDAP. PM's Adviser on Commerce, Razaq Dawood, stood there to speak and distribute these trophies.
These little-known events mark the arrival of a new export industry from Pakistan – Pharmaceuticals. However, its current statistics look unimpressive with market size of around Rs. Five hundred fifty billion (US$ 3.5 billion) and exports of US$ 250 million pharma industry looks like a weak infant as compared to other sectors like textiles or even IT – but the industry and its analysts believe that it has vast potential to grow.
While the export figure of $ 250 million looks abysmally small but keep in mind that it has steadily grown from the mere US $ 44.4 million in 2003. Industry insiders claim that exports from the sector could reach US$ 0.5-1 billion in about 3 to 5 years— and  after reaching this critical mass, export growth could become exponential.
"Pharmaceutical Exports can exhibit hypergrowth
in few years if Non Adjustable Sales Tax on
import of Plant, Machinery & Equipment can
be exempted so that the manufacturers can
invest on FDA, MHRA and EMA approved
manufacturing facilities in the country."
Mr. Jalal Uddin Zafar
Senior General Manager, Nabiqasim Group
Outgoing Chairman, Tauqeer Ul Haq, claimed in his speech on Sept 29 that in five years, industry's exports could surpass $ 2 billion – other CEO's that spoke to GVS teams on the sidelines of this Awards ceremony were confident that pharma exports could reach $ 5 billion within the next few years – provided the government in Islamabad sets its house in order, reforms Drug Regulatory Authority of Pakistan (DRAP) and comes up with a well thought out regulatory and export policy the way neighboring India did when it created PharmExcil.
This confidence of the pharma manufacturers has been growing for the past several years. Pandemic and the rise of India and China on the global horizon has somehow further contributed to this. India's pharma exports in 2021 have surpassed US$ 24 billion.
There are huge differences between India and Pakistan; New Delhi has a huge domestic market of 1.3 to 1.4 billion people; it manufactures around 40 percent of Active Pharma Ingredients (API) of the world backed by a powerful chemical industry that is supported by excellent research.
"Pakistan can emerge as a global player only if
the industry is willing to invest in upgrading
their facilities, systems and accomplishing
international certifications and our regulators
are willing to adapt to the international best
practices and start thinking out of box. Without
accumulation of capital for investment in the
local market, one cannot imagine entering the
global markets. We need to shift our focus from
targeting low hanging fruits of African markets
to developed markets of EU, North America
and middle and Far East. An archaic industry
and outdated regulatory practices are a sure
recipe for disaster."
Mr. Nadeem Khalid
CEO Herbion Naturals
Yet, there are certain potential similarities within Pakistan that give hope to industry insiders who point out to Pakistan's growing population (currently around 250 million), the large availability of pharmacy graduates, English speaking workforce, and non-branded generic markets in the region and across the world being vacated by India and China as they move towards more branded medicines. A sympathetic government in Islamabad is adding to these hopes.
Unfortunately, little exists in terms of professional analysis on the industry – with one exception. This study titled "Unleashing the Potential of Pharmaceuticals in Pakistan" was part of the Pakistan Business Council's (PBC) Make-in-Pakistan initiative in 2020.
To carry out this sector Study, PBC had engaged the services of the Consortium for Development Policy Research (CDPR). The primary objective of this study was to help formulate a set of policy recommendations to allow the sector to attain its true potential.
This study, which appeared in the second half of 2020, when pandemic's effects on global pharma were already visible, provides an in-depth overview and analysis of the pharmaceutical sector of Pakistan to determine its economic outlook.
A comprehensive assessment was presented that could help Pakistan become a cost-efficient manufacturer of high-quality generic drugs and potentially evolve into more lucrative product offerings such as super-generics and vaccines.
However, the researchers and writers of the study pointed out that this will require taking key steps today that could help the industry's transition over the next 5-10 years. Through detailed analysis of the bottlenecks at every stage of the pharmaceutical value chain, the study determined the most binding factors that must be overcome to ensure this.
"How do we increase exports? Well look at how
India did it. It increased its pharma exports
in the last ten years from $ 5 billion to $ 24
billion by removing the industry from under
the Health Ministry and creating a one window
called Pharmexcil, which was brought under the
Ministry of Commerce. In Pakistan, Pharma
is under the Health Ministry, which can be
detrimental since Import and exports, and
pricing should be separate because the Health
Ministry does not have the expertise, capacity,
or the will to help it grow in the export market.
Second, the government also needs to encourage
active product ingredients manufacturers in
Pakistan. Presently pharmaceuticals have only
10 percent of the material factories in Pakistan
and 90 percent of the materials we import from
India and China, the very countries we have to
compete within the international market after
manufacturing the final product."
Mr. Fazli Hanan
CEO, Focus & Rulz Pharmaceuticals
This research was complemented with global insights on best practices from peer countries India, Jordan, Bangladesh, and Malaysia that were historically similar to Pakistan and have since expanded their exports at least tenfold over the last 15-20 years.
Researchers argued that the global pharmaceutical markets are in flux due to major restructuring; there is an opportunity to strategically enter the global off-patent drugs market that will be worth US$ 700 billion in branded generics and US$ 381 billion in simple generics by 2025. The study pointed out that in 2019 Pakistan's total exports in these lines were around US$ 210 million. (Now, in 2021, around $250 million).
Researchers pointed out that developed countries have shifted focus to large molecules, called biologics, and this has created opportunities for developing countries to fill the gap for production of cost-efficient, competing for small-molecule therapeutics, especially for high-quality me-too generics, super-generics, and simpler biologics like vaccines and antisera.
"Pakistan Pharma Industry is fulfilling the
healthcare needs of the Pak population by a
continued supply of affordable and quality
medicines, which was evident in the recent
pandemic. Likewise, we alone can become
one of the key export verticals of Pak due
to the industry's focus on becoming globally
competitive, given a proper support mechanism
and encouraging trade policy from GOP, and
support the economy to achieve sustainable
growth and also build Pakistan global image."
Mr. Zahid Saeed
Group Managing Director, Indus Pharma
The argument thus runs that Pakistan – with a local market of 250 million consumers and more than 700 pharmaceutical companies – is poised well to gain from opportunities provided under these global shuffling patterns of supply and demand.
However, the current practice of simply importing 90-95 percent of the raw material, compounding active ingredients with excipients, coating the pills, and packaging the drugs cannot continue to be the long-term goal of Pakistan's pharma sector.
Pakistan's potential can be harnessed through an urgently needed sectoral growth strategy and corresponding action plan, overhauling the regulatory regime, deregulation of drug prices, strengthening intellectual property rights, and a consistent policy regime – like witnessed in India and later Bangladesh. These reforms can address, to a large extent, the unique features of the market that have stunted its transition to maturity.
"A broader, more diversified, and global
perspective will help propel the pharmaceutical
sector in the right direction. It remains vital to
solicit the government's support, incentives,
and positive policies to encourage the pharma
sector to introduce the "Made in Pakistan"
product mix globally."
Syed Jamshed Ahmed
Deputy CEO, PharmEvo
Pakistan's strict price controls and stagnant retail prices over the past 20 years have driven most multinationals out of this market – in one or the other form. This has given opportunities to local pharma producers to grow and control a bigger share of the market.
But this 'price control" has distinct disadvantages – which is now hitting the local pharma producers who want to become big and expand in new markets through research and development. With MNCs not contributing to new drug registrations at the same rate as other regional countries, the registration of new molecules in Pakistan has fallen.
This is attributed to two reasons. Firstly, delays in the regulatory channel have led to lower registrations, with new molecule registrations pending before the federal cabinet for nearly three years.
So even though DRAP and the pricing committee may complete their evaluation and pricing recommendation in a timely manner, as per the Drug Act 1976, pricing must be approved by the Cabinet, even for generic molecules. This situation is unique to Pakistan and leads to unnecessary delays. Secondly, this is because compared to the early years of 2000, the number of new applications for molecule registrations has also fallen.
Analysis of Pakistan's pharmaceutical industry – its opportunities and challenges – lie in its value chain. The value chain comprises three major components: manufacturing, distribution, and dispensing to the end-user. And each stage has its own peculiar set of problems that need to be addressed intelligently by the government. Pharma industry – unlike the textiles – does not have the kind of muscle that is needed to force a government into action.
Markets for Pakistan & Challenges of API
The key potential markets for Pakistan – industry insiders argue – are in Africa, East, and Central Asia, where Pakistan's main competitors are India, China, Jordan, Kenya, and sometimes Malaysia. Given that India, Vietnam, and Bangladesh are also supplying these markets, Pakistan could potentially gain entry.
However, access to low-priced APIs is critical for any pharmaceutical sector based on drug formulation. This basic sector is weakly developed in Pakistan, with 6-7 local manufacturers producing a little over 30 APIs. Domestic producers are protected by import tariffs ranging from 5 to 25 percent and supply 12 percent of the local market.
Despite having one of the largest birth rates in the world (5.5 million babies in 2019), Pakistan has virtually no domestic vaccine production. The acquisition of vaccine manufacturing capabilities can be a first step towards the production of next-generation, high-value pharmaceuticals in Pakistan.
The global market for human vaccines was valued at USD 33 billion in 2019 by the WHO Global Vaccine Market Report 2020 – after the pandemic, this is set to become much larger in coming years.
Way forward for Pakistan's Pharma Exports
PBC study of 2020 had made very valuable recommendations. Most of these have not been addressed even after almost a year. Pakistan has opportunities in view of changing global dynamics, but it needs a dedicated body that coherently translates a government vision for the country's pharmaceutical sector.
The regulatory environment needs serious reforms, and DRAP, like other regulators, must fall under the purview of the Cabinet. The pricing role of DRAP and export licensing must immediately shift to the Ministry of Commerce. And the government has to work on phased price deregulation; politicians and the media have to be educated to understand that realistic market-based prices are needed for quality products.
The key policy changes that could support companies in establishing a global presence are: Including the pharmaceutical sector in the five priority export sectors of the country; a dedicated body for the pharmaceutical sector with trade, diplomatic and technical wings to implement the 5-year action plan.
Government must allow contract manufacturing without limitation. It needs to pursue a policy of developing vaccine manufacturing capabilities under public-private arrangements, where the government agrees to long-term buy-back for locally produced vaccines. Without the Trump government's generous support, Pfizer's Corona vaccine would not have been possible.
Pakistan's Ministry of Commerce, using the Export Development Fund (EDF), may conduct product and market studies focused on Africa, Central, and East Asia, as is done in India by PharmExcil.
DRAP should continue its own reforms for quality regulation and enforcement, for e.g., by DRAP achieving international standards, clearing certifications as per WHO Global Benchmarking Tool, and attaining the PIC/S membership, which could allow access to SRA countries.
Finally, while unregulated or lowly regulated markets in Africa or Central Asia can provide opportunities for Pakistani pharma, the real prize lies in regulated markets of Europe and North America. India currently boasts around 650 FDA-approved pharma units – Pakistan has none.
Admittedly, such approvals are expensive and tedious, but the Pakistani industry has ultimately to move towards international standards to break into more lucrative markets. The government, to begin with, could legislate and enforce minimum consistent quality standards for any manufacturer that wants to operate in Pakistan.
WHO-approved laboratories that meet international standards and operate independently may be set up as Public-Private Partnerships (PPP). For vaccines production, DRAP must apply for and achieve WHO certification of its National Control Laboratory for Biologics (NCLB). A global presence requires the up-gradation of plants and premises to achieve GMP and other quality compliances.