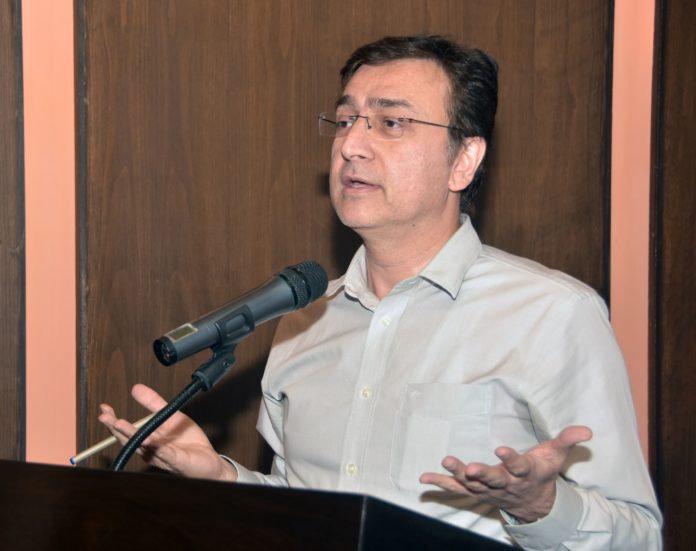 Dr. Moeed Pirzada gave lecture on "Role of Electronic Media for Investigative Reporting in Pakistan" at Seminar "Use of Right to Information Laws for Investigative Journalism In Pakistan" Organised by Sustainable Social Development Organisation (SSDO) in collaboration with Preston University, Islamabad on May 04, 2016. Dr. Moeed Pirzada emphasized on Right to Information (RTI) Law which can play a pivotal role in ensuring transparency and accountability at all levels. The 'Right to Information' gives people a wide choice to get information from any government organization, particularly the journalists can use it for investigative stories and for playing an effective role as watchdog of the society. It also gives an extensive option to journalists and mass communications students to take information from any public organization for their professional requirements. Dr. Pirzada's lecture was attended by a large number of students who interacted extensively with him by asking questions related to role of media in current situation. They had many queries and complaints to make with regard to media conduct.
Information Commissioner from Khyber Pakhtunkhwa (KPK) Abdul Mateen talked about the experience of KP in implementation of RTI law. He said that the commission is accepting complaints against all organisation performing public functions be it private or public. He said that the law has 89 per cent success rate and people have asked for all kind of information from the public offices. "People have asked questions about the cost of helicopter travel of chief minister and data on petrol expenditure of deputy commissioners. There was resistance from relevant departments in start but at the end, they abide the law on our insistence". He stressed the need to create more awareness about the law among the general public so that the true benefit of the legislation can reach the grassroots level. "I accept the fact that awareness about the law is very low especially in rural areas".
Managing Director Associated Press of Pakistan (APP) Masood Malik, addressing the seminar, said that APP was not only sharing information but also engaged in educating people on the issue."For this purpose, we have agreements with other NGOs to make people aware of their rights", he added. He said real democracy was must for the future of country, adding democratic process should continue to make it further strong and vibrant. He said due to the continuity of democratic process, a major party did lose the election of 2013 as it could not come up to public expectations.
Abbas, Executive Director Sustainable Social Development Organization (SSDO) informed the participants that 'right to information' was a tool to make any organization accountable to the citizens and media. Admiring the Punjab and Khyber Pakhtunkhwa governments, he said that both the provinces had passed a law regarding the 'Right to Information' adding that the Federal Government had also sent a bill to Parliament for right to information law. He said that the institutions were bound to share the information with citizens within fourteen days. In case of any failure, the pay of the concerned officer would be deducted on per day basis after the D-Day, he added. He said a campaign had been launched, after engaging university students, to inform people about the 'right to information' – "Haqooqe Aghahi" .