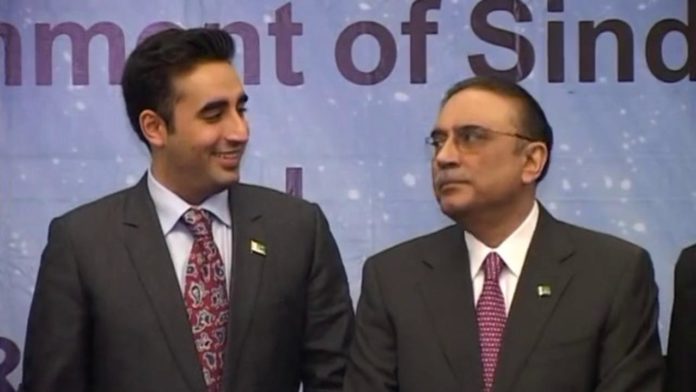 Shah Mehmood Qureshi while talking in my program on Dunya News on Fri, 13th April hinted that Zardari has lost control on PPP; he argued, albeit cautiously, that Zardari is no more running the show and Bilawal is setting the agenda on Panama Leaks along with PPP-Punjab. Qureshi was responding to my insistent queries that why will PPP lead by Khurshid Shah, under command of Zardari, not ditch PTI during the Assembly debate on Panama Papers now set for Monday, 16th May.
Shah Mehmood is not the first politician or analyst to argue this with me – though coming from him it has a different meaning and importance to it. For he has been a life long member of PPP and in recent days he had been the PTI's point man to organize an 'All Parties Alliance' on the issue of Panama Files. So we can reason that he is a kind of 'insider' on PPP especially in these days of inter-party negotiations.
What all these people are referring to is then a soft-coup inside PPP lead by none other than Bilawal Zardari Bhutto against his father: Asif Ali Zardari. Could this be true? Or we are being taken for a ride, through careful perception management the end objective of which is to bail out PM Nawaz from a difficult situation, gain time for the election and boost PPP's standing in Punjab in the meanwhile by playing along PTI and a popular agenda set in tune mostly by PTI and country's electronic media?
Last year, somewhere around in May 2015, when Fawad Ch and I used to do a show together in Express News, called 'Siyasat Aur Qanoon'. We did a program on new potential leadership of Pakistan from Maryam to Hamza to Bilawal. When we reached Bilawal, I argued that Bilawal is tall, fair and handsome; features needed for success in Pakistan's shallow politics and top of that he has a great profile, an unmatchable cv, being the son of Benazir and grand son of Zulfiqar Ali Bhutto but even if you ignore his 'pinkish Urdu' he has one big baggage: his father Asif Ali Zardari.
Fawad who had worked with Bilawal and who still interacted with him on an intimate level and who had to meet him soon, was visibly perturbed; but I kept on building my case that the only and only way Bilawal can claim leadership across Punjab, KPK and Karachi, amongst the new educated youth is by creating a wedge with his father, by disowning him, by repudiating him, by politely but firmly telling him that your time is over, you are not needed any more; I am your best defense but you are my worst liability. That Express program should be available somewhere on You Tube.
Mine was a nasty, brutal theoretical argument – but it had some sane logic, behind it, which can appeal to most who know the Pakistani political history and its narratives. Bilawal also ended up watching that program. So has the moment arrived for that break? Have the father and son decided to part ways amiably? Have they at least decided to give this impression to fool the young generation of Punjabis? Could Aitzaz, Kaira, Khurshid Shah, Nadeem Afzal Chan and Raja Pervaiz Ashraf all part of this carefully crafter narrative?
The logic advanced by the advocates of 'soft coup' is that the PPP Punjab was bitter and angry; they had realized since the elections of 2013 that how the the apolitical strategies of Zardari all geared towards personal survival and the perception of 'friendly opposition' with Sharifs, endlessly rubbed on by Imran destroyed them across central Punjab. They now see a rare opportunity in the 'Panama Files Scandal' of aligning themselves with the public mood; to them this is a God send moment of rejuvenation of PPP in Punjab and perhaps across the country. Argument is that Aitzaz, looking for a role in history, finally true to himself, has convinced the young Bilawal that this is his opportunity, his moment of claiming leadership.
Dr. Tanveer Zammani, once known to be very intimate with ex-president Asif Ali Zardari was recently in Pakistan. She also called me, informing that she is launching some sort of 'PPP Foundation or Campaign' starting from Karachi. She wanted to meet; we could not meet in the end, though intrigued by her statements I did ask: What is the purpose? And she said openly and bluntly that 'Asif Ali Zardari Sb has been left in a kind of life boat from the ship of PPP and Bilawal,  Aitzaz and Kaira have taken charge and I want to restore PPP". Listening to this, unbelievable piece of information, magical revelation, my first reaction was that this is some sort of political gimmick, a cleverly orchestrated disinformation campaign to plant the idea that young Bilawal has taken charge and is now on his own, charting course on rough waters.
But later I came across others who argued that Zardari is practically in exile, cut off from Pakistan, and is losing control on the ground. Though he was comfortably placed in the 'Desert Dream' of Dubai for quiet sometime but was visiting now and then, now for the past one year he is literally forced out, and as the realization that he will probably not be allowed back is getting deeper and deeper, the secondary leadership of PPP, especially in Punjab are becoming more and more independent; they are becoming a leadership on their own, they are assuming a form of their own in search of their destiny. And they realize that if they still kept on following the 'irrational diktats' of Mr Zardari, that did not make much sense even before but now are totally out of sync with the political reality growing around them then they are finished. They have told Bilawal that they must align themselves with popular feelings to survive or else they will be better off leaving PPP – like Raja Riaz is doing at the moment.
Could this all be true? I leave this question to pundits of Pakistani politics, I am only raising issues and posing questions. I have no definitive answers.
However what I see is that Khurshid Shah is the leader of Opposition in national assembly and while he maintains a deference towards young Bilawal, he does not appear to be speaking his language. Many of our colleagues, more in tune with the politics of Sindh tell us that Khurshid Shah Sahib alone represents the mind and will of the master, Zardari. So how Khurshid Shah acts and reacts in National assembly on Mon, 16th May will determine where PPP really stands on Pakistani politics. It will be the litmus test of whether Mr. Zardari has lost control or he is speaking different mantras through different masks?
While PPP is now a sort of newly certified opposition that is negotiating, or trying to negotiate with PMLN on Panama Files, effectively displacing PTI, taking the leadership role in that process of dealing with the government whose B-team it was considered not long time ago, there are others like MQM, ANP and single member party of  Aftab Sherpao who too are being considered an opposition to the Nawaz Govt at the moment -as they all are shouting for a 'commission'. But are they really the opposition?
When this so called 'opposition' was drafting its TOR, on Panama Files Investigation, it was ANP and Sherpao party that took a stand against 'resignation' of PM Nawaz, since by then Bilawal had already roared in Azad Kashmir demanding that Nawaz must leave. So could this be a carefully crafted arrangement in which PM Nawaz is being represented on both sides: in his declared allies and through his 'undeclared allies' amongst his opposition. Purpose can be to shape a narrative step by step – taking it towards final acceptability.
Two weeks ago, avoiding 'resignation demand' from a joint opposition was the main necessity; now creating consensus around a weak, meaningless Commission could be the next goal. Supreme court had no option but to reject the Commission proposed by the government –as it did on 13th May. But we must not forget that government proposal was so one sided, so stupid, and was deliberately drafted without consultation with the opposition. Perhaps there was a method to the madness; could it be another well thought gimmick like the Prime Minister's speech of 5th April that offered a 'Commission under retired judge' knowing fully well that it will lead to demands for a 'Commission under Supreme Court'. Similarly sending unilateral TOR's to Supreme Court could be another trick, another trap, with clear understanding that once these are rejected then it will lead the way towards finally a 'Consensus Commission". After all, PM Nawaz and government side will be seen on defensive and making one after the other concession forcing opposition (mainly PTI) to show flexibility. We must not forget that no one needs a commission except PM Nawaz Sharif. He needs a forum, where facts can be tempered, confused, defeated, submerged and finally trashed through points of law. Only a combined opposition that looks like an 'opposition' can achieve that for him. Narrative, over the past two weeks, was shaped by 'govt. spin machine' as if PM is being targeted and a Commission is being forced upon him. And they have done a good job. But finally while flying back from Tajikistan, on Thu 12th May, PM, in a moment of stress, uttered in desperate tone, to a team of 'royal reporters' that often flies with him, that he wants to make a commission.
The theories of 'Soft Coup' inside PPP will be put to test on Monday 16th May. How PPP and Zardari Sahib's point man: Khursid Shah react on the floor of the assembly once PM Nawaz tells or fails to tell the story of the 'family's treasure island' will carry the litmus test. Will Khurshid Shah now be showing acceptability to whatever funny 'Treasure Island Story' is told finally paving way for a meaningless commission through consensus (with the help of ANP, MQM and Sherpao) or we will see 'genuine dissection, genuine probing questions; from him and PPP on the 'Treasure Island Story'? Whereas it is in the nature of political parties and politicians to fool the media and the public, to spin realities for them; it is the responsibility of free media to try to see through them. Media's job is to pierce the mist of politics to find the truth behind smiles and threats. This is the reason for media's existence in a democracy. That is why we are the 'fourth pillar' of the state. Lets see what we find out on Monday, 16th May.
[Moeed Pirzada, is TV Anchor and Editor Strategic Affairs Dunya News. He studied International Relations at Columbia University New York and Law at London School of Economics & Political Science]