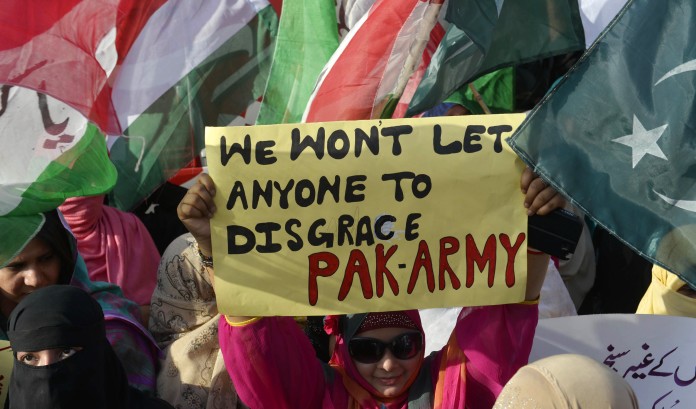 Moeed Pirzada | Khaleej Times |
In Pakistani collective consciousness, not a leaf dares tremble without the permission of either the Army or America. Together they share Allah's sovereignty from the edges of the Arabian Sea to the mountain passes across Khyber, and beyond. Sometimes there are doubts as to who is closer to God Almighty, but such disputes are usually settled quickly.
So all wise men must believe that ZA Bhutto's socialist ascent was an American conspiracy; and so was the Jamaat-e-Islami-led PNA's movement against him. General Zia, a devout Muslim, but an American agent, was waiting in the wings for Washington to signal martial law and it was Henry Kissinger who decided to hang Bhutto. Ultimately, General Zia himself lost favour on the banks of Potomac and CIA sent a case of exploding mangoes to take care of him. Many expected more mangoes for General Musharraf and are disappointed that none has arrived so far; jury is still out on General Ashfaque Pervaiz Kayani.
With this mindset firmly entrenched should we be surprised by the popularity of the "Plan to topple Pakistan Military", a thesis written by a blogger, Ahmed Quraishi, that has been circling around the planet via the Internet?
Absolutely not! Given the universal belief in his assumptions, there is no scope of causing a ripple in the perfect stream of this consciousness. However, there is one teeny-weeny problem: this time around, no one has been spared.
The plan would have been less worrisome if the conspirators were restricted to the usual suspects: CIA, Baloch nationalists, Ms Bhutto and the hated Indians. But Quraishi, trained in the mould of Agatha Christie's immortal detective, Hercule Poirot, casts his net far and wide; the list of those working in an intricately linked conspiracy to topple the military includes: the US Ambassador, Anne Patterson, Consul General Bryant Hunt, students of elitist universities like LUMS, Western-funded NGO's, Supreme Court judges, top jurists, lawyers, civil right activists, human right campaigners, prominent TV anchors, columnists and the biggest media network, GEO. And of course, my friend, Ayesha Siddiqa, the author of 'Military Inc', without whom, I now suspect, no conspiracy can have its intellectual foundations.
Ahmed Quraishi is a lead anchor with the state broadcaster PTV; imagining himself in the spirit of a Carl Bernstein he even refers to his sources. But many like me who read him are less concerned with him or his sources; we know we are dealing with a mindset. A mindset that sees everything as inter-connected; flowing from one large whole, a single source of intelligence. A mind set that is partly cultural and partly religious.
It reminds me of a poem we used to read in our school Urdu books, "Rab ka shukar ada kar bahi, jis nay humari gai banai" (praise be to Allah who made our cow). The poem goes on to thank God for making cow whose milk can be drunk and whose flesh can be eaten and so on. Looks so benign on the face of it, but so powerful in terms of influencing minds. For a long time, I, like many children around me, used to think that God created horse for riding, dog for loyalty, chicken for eggs, goat for meat and so on.
I grew up to realise that horses might have existed before men found it convenient to ride them — but many have not. Even today I come across and I hear and read many adults who essentially think of the world in such simplistic terms: interconnected; controlled and run by a single source of intelligence.
And from this mindset, it becomes difficult to understand that things can happen at random, can have momentums of their own or alternative explanations might exist: Baloch nationalists can also be worried for stagnant gas tariffs and demographic squeeze with developments in Gawadar; professional classes and civil society can be influenced by the economic change; lawyers' sense of identity can be threatened by the open humiliation of judges.
A few weeks ago, I met Hussain Haqqani in London. Haqqani is widely understood to be the architect of Ms Bhutto's new found acceptability in Washington and I asked him, "Don't you squirm under your skin for so shamelessly following the American agenda?" And he retorted, "Oh! really, and what about those who admit in their books that they have been receiving money for handing over Pakistanis without trial to the Americans?" The dialogue ended.
With the creeping globalisation, the nostalgic water-tight state is neither possible nor desirable. Regional and foreign influences will enter and often mask themselves as domestic players. Now the Pakistani establishment has to learn to govern in a system not balanced on static but dynamic equilibrium.
If today, Americans have managed to paratroop Ms Bhutto on the establishment's flanks, then who is to be blamed? There is evidence that General Musharraf had opted to share the stage with Ms Bhutto and both benefited: who brought the shameless NRO? Who legitimised the Presidential elections by not withdrawing from the assemblies?
Military is the most fundamental and primitive of the state structures; even today it may provide the barebones of most — if not all republics — but in this day and age, it has to acquire a flesh of civil society, of courts, of media and the politicians over it. This plurality adds to the depth of the nation, but if all these structures are mere extensions of the will of the military, or controlled by one button — as it is in Pakistan at the moment — then, sooner or later far from being safe, it is the military that will be at threat.
The establishment needs to learn that the untrustworthy Americans, the hated Indians and the ungrateful Afghans are part of the game — and so will be the politicians with friends in Washington. They too have learnt their lessons.