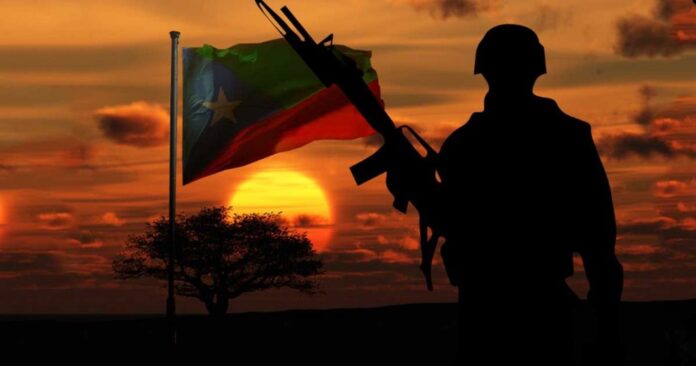 The Baloch Liberation Army (BLA), came back into the limelight after it took responsibility for an audacious attack on the Pakistan Stock Exchange (PSX) in Karachi on June 29. Four BLA militants stormed the PSX building and killed three security guards and a police officer before being killed by the Law Enforcement Agencies (LEAs).
The attack happened at a time when reportedly an important Chinese business delegation was inside the premise of PSX. In recent years, Chinese bourses and corporations have invested in PSX and BLA since 2014 (emergence of CPEC as part of BRI) has reinvented itself as an Anti-China militia.
Its statements on social media paint itself as a people's resistance against Chinese imperialism. It also took responsibility for the attack on Chinese Consulate in Karachi in Nov 2018, and on Pearl Continental Hotel – frequented by Chinese engineers – in the port city of Gawadar in 2019.
BLA: Historical Evolution of an idea from the 1970s
BLA's reinvention as an Anti-China militia can only be understood in historical context. While dealing with guerrilla cum terror organisations dates are always tricky, but it was founded in 2000 as a militant outfit. However, Baluch militancy – as an idea – has been around from the early 1970's.
This gradually germinated from a deep-seated sense of anger and alienation that has lingered in sections of the Baluch elite since 1948. Pakistan's British era bureaucracy left scars in sections of Baluch elite and intelligentsia as it was negotiating, cajoling and persuading different tribal setups of British Baluchistan and Kalat to join the newly formed state of Pakistan.
But the grievances have been more a function of elitist narrative shaping than a genuine reflection of ground realities. Same Baluch elite – powerful Bugtis and Marris – who kept on taking up arms against the Pakistani state, have also been enjoying massive privilege and political power as parliamentarians, ministers, senators and chief ministers.
Province was resource-rich – but only on paper. Its population at the time of partition was less than 0.5 million (around 1.5% of west Pakistan's total of about 31 million) spread over 43% territory of western Pakistan that was mostly barren and without water and thus without agriculture.
Such sparse population, living in pockets, spread over enormous distances, made it virtually impossible for the governments, in a poor developing country, to provide structural development or growth of a market-based economy. Almost 50% population is Pashtun of Afghan origin – inherited from the British conquests of Afghan territory, during the Second Anglo-Afghan War (1878-1883).
Name Baluchistan is thus a misnomer -since Baluch constitute less than 40% of the population. However, all these historical, demographic and administrative challenges coupled with ethnic and religious fault lines (Pashtuns being very religious and Baluch very secular-minded) have helped create a narrative of alienation against the state.
This narrative has been invested, exploited and utilised by all sorts of internal and external interests. Province saw a full-fledged insurgency in early 1970s (during the govt. of PM Zulfiqar Ali Bhutto) that ended with negotiated surrenders – through political discontent was not resolved.
It is documented that the erstwhile Russian Intelligence Agency (KGB) in the late 1970's was instrumental in structuring a militant outfit from Baluchistan Student Organization (BSO). Later during the US-supported Afghan war of resistance against the Soviet occupation Indian Intelligence (RAW), Russian KGB and Afghan KHAD kept on using Baluch militants for all sorts of purposes in the name of freedom.
What happened in Mumbai, they wanted to do the same [in Karachi]; they wanted to spread uncertainty. We have no doubt India did this, the premier said
However, after the end of Afghan war and withdrawal of Soviet forces and Indian influences from Afghanistan – replaced by Afghan mujahideen and later Taliban – Baluch militancy lost its external support, strategic direction, finances and geographic depth. So BLA's emergence, in around 2000, many months before 9/11 is a matter of curiosity and interest for Islamabad based experts who follow developments in Baluchistan.
BLA: From a political resistance to a terrorist organization
Since 2000, the BLA has gradually evolved into a much more violent armed separatist movement. It mainly draws its members from the Marri or Bugti tribes; it was first recognised after it claimed credit for a series of bombings in markets and railways that targeted Pakistani soldiers and police.
It has earned notoriety for small scale bombings and attacks since its inception – however it had never demonstrated much of an institutional character. In 2005, while the Pakistani President Pervez Musharraf was stationed in Camp Kohlu, an attack was carried out by the BLA. This event was a decisive one that eventually compelled the government to designate the BLA as a terrorist organisation in 2006.
Once the Pakistani government listed it as a terrorist organisation, the UK followed, however, the US only declared it as a terrorist organisation in 2019 before PM Imran Khan's first official US visit. The Pakistan Stock Exchange attack further aggravated tensions between Pakistan and India as Pakistani law enforcement, intelligence and Karachi Rangers suspected an institutional setup, of a large intelligence organisation, behind the attack.
In a break from past Pakistani traditions, fingers were pointed towards New Delhi for supporting and orchestrating the terrorist attack. Prime Minister Imran Khan, Foreign Minister Shah Mahmood Qureshi, along with other top government and military officials – in what was unprecedented – clearly blamed India for being the mastermind behind this attack.
"What happened in Mumbai, they wanted to do the same [in Karachi]; they wanted to spread uncertainty. We have no doubt India did this," the premier said, referring to the 2008 Mumbai attacks in which more than 160 people were killed.
While on another occasion, Pakistan's National Security Advisor (NSA) categorically stated that the BLA had a longstanding well-established link with India, which has been supporting its proxies to carry out terrorist activities inside Pakistan.
The PM's National Security Advisor Moeed Yusuf said, "There is an established link between BLA, an international listed terror organisation, and India, a state-led by [a] fascist government that has again perpetrated terrorism in Pakistan through its proxies".
BLA: Reinvention as Anti-China outfit?
BLA's reinvention as an Anti-China outfit is a recent development and an interesting one. As pointed out above, it always needed external mentors for strategic support, finances and narrative shaping.
Given the unsettled nature of Indo-Pakistani relations, increasing tensions after 9/11 with India seeking a role in Afghanistan and rise of RSS and BJP politics India has started to emerge as a more vocal supporter of the Baluch cause which it had historically avoided. New Delhi also attempts to build Baluch militancy as a moral equivalent against Pakistani claims of Indian human right violations in Indian occupied Kashmir.
BLA's Indian connections help explain BLA's reinvention as Anti-Chinese militia since 2014. While Baluch elites in power want more of CPEC routes through the province, BLA's narrative of China as an exploitative imperialist power – in the mould of 19th century British and French colonial empires – help win it international sympathies and attention.
BLA's leadership
Sardar Akbar Khan Bugti is considered as one of the founding fathers of the BLA. He was the former Chief Minister of Balochistan. Akbar Bugti was killed during an operation conducted by the Pakistani security forces on August 26, 2006.
Mir Balaach Marri, also a key BLA leader, was responsible for gaining the support of the local community of Balochistan for pursuing his organisation's agenda. He held considerable political influence due to his close association with the political leadership of Balochistan.
Mir Balaach Marri was himself a former provincial parliament member. It is unclear when he may have taken control of the BLA. Pakistani security forces carried out numerous attacks against Balaach Marri, and he was eventually killed by what was believed to be a Pakistani security forces operation on November 21, 2007.
Nawab Khair Bakhsh Marri, also known as "the godfather" of the Baloch armed resistance was responsible for the 1970's insurgency in Balochistan. Khair Bakhsh Marri died in June 2014. His death occurred in the course of nature and from natural causes.
Brahamdagh Khan Bugti was a BLA leader, who never openly confessed being a part of the militant outfit. Once during a live television interview, Bugti called for the killing of all non-native residents of Balochistan.
Another prominent leader of the BLA was Bijar Khan. In July 2015, Khan was killed in a raid conducted by the security forces. In 2018 the Baloch Liberation Army executed an attack on the Chinese Consulate in Karachi. Aslam "Achu", an alleged chief of a subgroup of BLA, was the mastermind behind this. Aslam died in a suicide attack in December 2018.