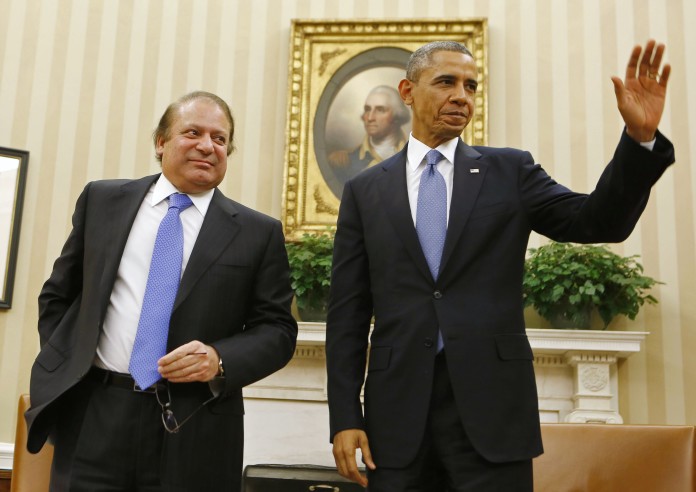 Moeed Pirzada | FB Blog |
PM Nawaz Meeting with President Obama – I just read Munir Akram's piece, "Washington Challenge" and I genuinely felt sympathy for PM Nawaz Sharif. He is up against a huge challenge and needs our support.
As per past history, United States is again shamelessly trying to sacrifice Pakistan's hard earned geo strategic stability within South Asia for its short term gains of boosting India. Since 9/11, U.S. pursuit of its 'total immunity from fear' has lead to destruction of almost half of the Middle East & Afghanistan and countless millions of deaths across the world. And yet the U.S. is angling to create more instability in the name of stability. This is precisely what Sartaj Aziz referred to in his interview with BBC on 17th October.
My own understanding of this US overture as reflected in my Sunday program on this issue echoes what Munir Akram has written in his Dawn piece. Though I couldn't read Munir's piece before my program; he has examined and explained the situation much better. Off-course his understanding of issues is not easy to match or replicate. I have posted his article, "Washington Challenge" and I will request all to read it.
India and Pakistan have achieved a balance of power in the region – with off course India the dominant power but without the decisive edge which allows a dominant power to dictate – the kind of power India has over Bangladesh or Nepal. United States, under fake and false excuses, is trying to erode that balance of power. And then Americans ask: why do they hate us? Or Why they like China?
Nawaz is lucky in the respect that his main opposition – Imran Khan – will not play the U.S. game against Nawaz. Had Imran been willing to become an American pawn then Nawaz would have found it difficult to survive the political crisis engineered against him by who, we all know. U.S. and west fully supported Nawaz during his political crisis and their support was crucial; this is what Seema Khan hinted in her comment on these pages two days ago and this is what I had asked Imran about, though he didn't want to comment on this for understandable reasons.
Since the U.S. and the west had supported Nawaz solidly since the 2013 elections, not only during political crisis but also facilitating through west's financial architecture of IMF, World Bank, ADB and so on. So they consider him their man in Islamabad – who will deliver for them. They also know his psychological fears of military and will try to drive a wedge between him and his military which is the institutional custodian of nuclear policy and weapons.
It's not that PM Nawaz and people around him don't understand the American game plan. But Americans hope to extract something out of him by playing upon his fears and insecurities. This special invitation of Michelle Obama for Ms Maryam Nawaz conveyed through Peter Lavoy appears to be part of the "softening" strategy.
It is interesting to know that Peter Lavoy was leading these negotiations with Pakistan and is considered a friend of India. But I am sure, despite all the psychophants around her, Maryam Nawaz will still see through this trap which is being laid to pressurise PM Nawaz to extract something out of him.
Nawaz Sharif and people around him had always taken credit for making Pakistan nuclear. That was a lie, since Pakistan was a de facto Nuclear State since 1987. Now is the real test of Nawaz Sharif on nuclear issue. He has been trapped into saying "Yes or No" through the lure of a Meeting in White House. Such is the fickleness of Pakistani politics that such meetings are considered important for exhibiting political legitimacy.
What Americans are offering to Pakistan is not even worth considering. The only answer Nawaz has to give is a polite "No" – the kind of which a sensible wise girl gives to a rich power drunk rude suitor who proposes on the assumption that he is too good to be rejected. If Nawaz wisely manages to give a shut up call to Obama, he will earn his place in history. He will be our leader. This is his real test.