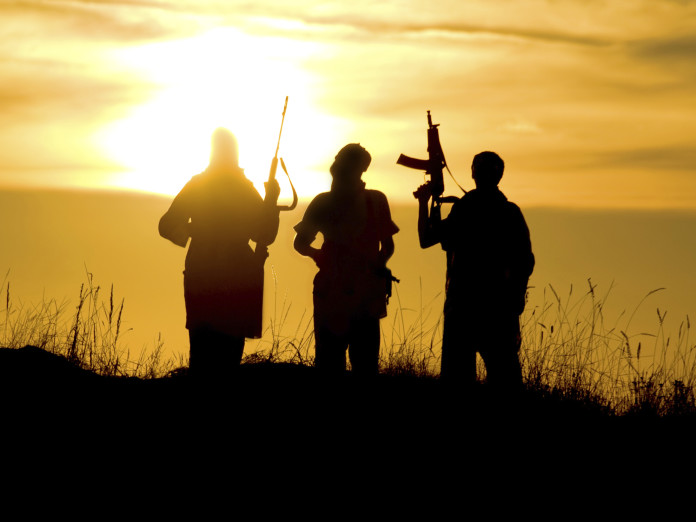 Moeed Pirzada | Khaleej Times |
President Franklin D. Roosevelt had once said about Nicaraguan strongman, Anastosio Somoza, that: "he may be a son-of-a-bitch, but he is our son-of-a-bitch". Since then American political jargon has become more black and white. These days instead of borrowing colorful and sexist expressions from animal world, all bad guys, with or without beards, are clubbed together under the term: terrorists. But trust me: ownership dispute is still there.
After the tragedy of 9/11 the smart Indians were the first who made clear to Washington that unless Kashmiri insurgents and their Pakistani sponsors are declared "terrorists" New Delhi is not stupid enough to let the Pentagon enjoy its video war games with its preferred set of terrorists. Realising that the crafty Indians have understood everything and mean serious business, especially with the rather bizarre attack on the Indian parliament, Bush administration winked and agreed to widen the definition to accommodate Indian concerns.
But now things are getting more complex, if not murkier. This week it was Pakistani military now accusing the US and Bush administration of playing double games, of encouraging, protecting and sponsoring its own set of terrorists in the region and inside the Pakistani territory.
How have we reached at this unbelievably interesting juncture? Well, the tensions were brimming under the surface since the bomb attacks on the Indian embassy in Kabul in the first week of July. Both Kabul and New Delhi were quick to blame the Pakistani intelligence agency, ISI, to be the mastermind of these attacks. US, which initially hesitated, soon joined in the chorus, adding that it has evidence of the involvement of the ISI in the heinous act.
And then during the Pakistani Prime Minister's trip to Washington, in the last week of July, this became the leading front page story in America's largest paper. In what clearly looked like a deliberate leak by the Bush administration, New York Times claimed that CIA Dy. Director Stephen Kappes had recently travelled to Pakistan to point out to the Pakistani military that it has evidence of ISI's contacts with Taleban and its possible involvement in the Kabul bombings.
ISI thanks to a cocktail of earlier successes, its headiness and stupidities, cries of its political victims at home and a strategically targeted propaganda by its regional counterparts enjoys such a nasty reputation that virtually anything blamed on it will look credible. So when Mr. Hussain Haqqani, Pakistan's Ambassador to the US, after the appearance of New York Times story, demanded that if Washington accuses then it should provide "hard evidence". My first thought was: "My God! Mr Ambassador: What if they have it?"
But it now appears that Haqqani as a diplomat knew something which we in the media don't have access to. Pakistani military might not have those noisy drones but shocked at the betrayal of "friends & masters", it faithfully served over sixty years it decided to hit back with its own leaks. This week one of the largest English papers, The News, carried a story: "US told not to back terrorism against Pakistan" by the veteran journalist Kamran Khan, who is known for inside access to the mind of the defence establishment.
This story should have been more appropriately titled: "What CIA did not tell New York Times?" for it claimed that when the Stephen Kappes, Dy. Director CIA and Mike Mullen, Chairman Joint Chiefs of Staff of the US travelled to Islamabad to present their case, they were given a counter briefing by the President Musharraf and top officials of the military and ISI. And Pakistanis wondered: why has their version never reached New York Times?
Basically the Pakistani side has no problem in admitting that ISI does maintain channels of communication with groups inside the Taleban resistance. But it argues that it does so for strategic reasons in the same fashion that British and NATO officials do. And this is how it recently managed to obtain release of its abducted Ambassador to Afghanistan. But it insists that evidence of such links hardly amount to any kind of culpability.
But then the Pakistani side raises its own set of awkward questions to the American side. Questions which to the minimum raise the possibility, that the US may be playing a double game. This has been a growing theme in Pakistani chatter mills for the past two years that the US activities, under the broader panoply of the war against terrorism, are fast becoming a regional agenda of diverse strategic gains and that the Indians are increasingly part of it. What the story in the The News has done is that: it has suddenly given a degree of legitimacy to the questions which were hitherto only part of the conspiracy theories.
For instance why the US has never taken notice of the fact that Baluch insurgents playing havoc with Pakistan's energy infrastructure maintain close links to Afghan intelligence, and repeatedly visit India? After all if this is true then what are the objectives? Second, why US has failed to take action against some one like: Baitullah Mehsud, the notorious leader of the Taleban movement inside Pakistan? Even when it was provided precise actionable intelligence by the Pakistani military and when it had the clear ability to do so?
There is ample evidence to suggest that both Washington and London have refused treating Baloch insurgents as terrorists despite the mayhem they are causing. Till last year some British think tanks, allied with the ruling Labour party, were openly inviting some of the Baloch leaders, that incite violence, to address seminars in London. This is the classical example of selective definition of "terrorist". There is no denying that Baloch militants represent separatist groups but then so are the Kashmiris in India?
But the accusations related to Baitullah Mehsud, become even more intriguing. Could it be possible that the Bush administration has its own assets among Pakistani Jihadists? Could there be a strategic logic for this? Despite the bizarre nature of these accusations these impressions, these unanswered questions have now gained wider currency.