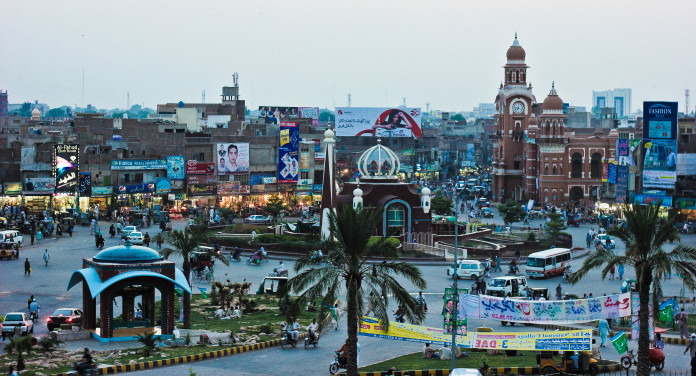 Moeed Pirzada | FB Blog |
Why it is vital for ECP to call Army to supervise Elections in NA-149 Multan on 16th October?- Given today's application by Punjab Govt to Election Commission to postpone/delay elections in Multan constituency for fear of violence and law and order situation, it has become apparent that Punjab Govt (read PMLN) is panicking that bye-elections if held in a normal atmosphere, without violence and fear, then results will be embarrassing for their supported candidate Javed Hashmi. But now since ECP was unable to accept their demand the risks of violence in this Election have increased manifold. Sources I have talked to fear that Punjab Govt (read PMLN) will have an excuse that they had already warned that serious violence is possible and ECP failed to take threat seriously.
DCO & DPO Meeting late night on 12th October? Sources in Multan tell us that CM Punjab has been informed by Special Branch and other sources that Javed Hashmi, unless supported by massive robust rigging, will not secure second slot in this election, and this election has become a contest between Amir Dogar (supported by PTI) and Tariq Rashid (PPP) so on 12th Oct, CM realizing that how humiliating and damaging this can be for PMLN in the ongoing political atmosphere of dharnas and jalsas, then asked DCO Multan to find a way out to postpone Elections from 16th, and there was a meeting in DCO's Office that continued past-midnight; participants of this meeting kept considering that how Elections should be delayed and on what pretext, but in the end they concluded that public mood is already very anti-govt and anti-administration after the Qasim Bagh tragedy, and no tangible excuse exists to delay Elections which will be believable by public in Multan and the media. Next morning we heard of Punjab govt making a direct request to Election Commission.
If Javed Hashmi loses this election, with this huge margin, as it is now getting obvious then it will become a humiliating defeat for ruling PMLN and Punjab govt with its political implications across the country. The fact that Hashmi is being supported by PMLN is a small matter; what makes this election important is that Hashmi was paraded by PMLN to the whole country and the world as that "Man of Principle" whose conscience had rebelled against the conspiracies hatched by Imran and Qadri against democracy. Now if this "Warrior for Democracy" this "PMLN Brave Heart" is humiliated in a transparent peaceful democratic process then PMLN loses a lot in terms of its political narrative and it sends a clear message across Punjab, and the country to the real popularity of PMLN on ground and as to what common people (in contrast to the govt paid analysts) think of Hashmi, and his actions and thus the PMLN govt itself.
So PMLN simply does not afford a huge transparent defeat for Hashmi. But how to avoid it? This is where violence fits in. Sources in Multan believe that a law and order situation, an atmosphere of fear in and around the key polling stations in inner city of Multan (areas like Walled City, Hussain Aghahi, Hunno Ka Chajha, Derra Adda etc) and even other parts of the Multan on 15th or 16th, a specter of angry rival political groups tearing posters, shouting obscenities and attacking each other, with sticks and occasional firing will help create an atmosphere of fear and uncertainty to keep many voters away and will provide circumstances in which either the elections don't take place, or become controversial to the point of being irrelevant or massive rigging can be done to help Hashmi – at least to avoid the humiliation that awaits him and PMLN.
It is in this context that if ECP does not call Army Units to secure access points to Polling Stations and to prevent show of force in and around Polling stations then it will fail in its duty to provide an atmosphere in Multan for public to vote without fear. Calling Rangers is no panacea because Rangers don't have the same moral authority; it lacks the speedy internal communication and managerial command of Army units, and is far less competent in terms of capacity. Calling Rangers will merely be a show, a cover-up. Since Punjab Govt itself has expressed fear of violence now if ECP does not call Army then it clearly fails in its duty to the public, and to its right of free vote in a democracy.
Not only that few Army Units needs to be called on 15th and 16th Oct, but that Punjab Govt needs to submit a written report to ECP about the nature of threat it feared and the possible areas that can suffer violence. ECP then needs to forward that report to the Army Unit that is called. It is not very difficult; it is very simple. It all depends upon if ECP is prepared to provide an atmosphere for free, fair and transparent elections or not. If Army can be called under Art. 245 to protect govt buildings (under the excuse of terror threat) then surely tax-payers army can be called to protect public's right to vote without fear of violence.
Please share it as much as you can – let it reach all political parties and ECP Officials and Media.