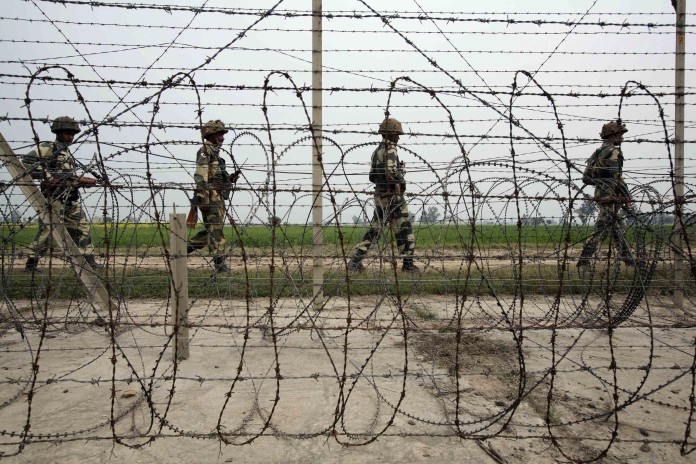 Moeed Pirzada | FB Blog |
Why Modi Govt is retching up tensions at LOC? – Apparently for two reasons: One, it wants to use Pakistan card in the state elections in Maharashtra and Haryana and Second, it is signaling that it wants a new Assertive Relationship with Pakistan. Both aspirations need our careful analysis.
"Pakistan Card" is unfortunately not only valid in Indian Politics but its importance is increasing. While in the past several of Pakistani elections (2002, 2008 and 2013) India was not a "vote influencing factor" at all in India political parties derive benefits by hitting each other for being "soft or weak" on Pakistan. This was again seen in the run up to the 2014 Elections when BJP and Modi painted Congress as soft and Manmohan as weak on Pakistan. (remember his famous jibes) This also lead to LOC tensions because Congress remained under pressure to show that it was not weak or indecisive. And just like now, even then Indian politicians and media (which acts like a puppy when it comes to foreign policy) kept claiming that Pakistani military is doing it to frustrate Nawaz Sharif's peace initiatives towards India. This may again be the spin for Indian public and to the world (and Off-course two dozen Pakistani liberals in Islamabad will be happy to buy that) but the ambitions of Modi government are pretty obvious this time and they may not be able to run away with this; especially it may find it difficult to sell it to the Indian public.
Why? because Indian Opposition may hot have limitless tolerance for Modi covering up his economic performance and political challenges under Pakistan agenda and Indian media realizes that Pakistan is far too much busy in its internal political battles and military is stuck deeply in western theatre against TTP and allies; strategizing to contain backlash of Zarb-e-Azab and is watching anxiously how Afghanistan's potentially weak and unstable set-up evolves over the next few weeks with growing US withdrawal. To any sane mind, Pakistan is in no situation to pick up tensions with its powerful Eastern neighbor – that is also being supported by the US.
Modi may want Pakistan to ask for some sort of bilateral talks to end hostilities before Indian state elections which may help BJP to sell itself as a strong effective bully in Maharashtra and Haryana. Unfortunately Nawaz Sharif suffers from several stumbling blocks; he is mentally stuck in 1999, is under pressure from the US and his business supporters to be cordial towards Modi, considers his military a bigger threat than India and with his narrow focus on Lahore and Islamabad axis, is generally very weak in understanding regional and international issues with their wider implications and may even oblige Modi without understanding the bigger picture. However if Nawaz plays smart to his own advantage, then he can use this National Security meeting on Friday to thunder against India and try to regain his lost political space in Punjab. Given how bad and defensive PMLN looks on this issue with ongoing PTI jibes: Where are Maryam Sharif's lions and tigers? the possibility is that Nawaz will act smartly and will use this to regain his confidence in domestic politics.
But there appears to be a long term Indian initiative also which is far too risky for Pakistan. Though the fact that "Bashing Pakistan" or dealing strongly with it sells as a political card in Indian politics should be troubling enough situation, but what compounds it further is the US withdrawal from Afghanistan and the potential of a weak divided government in Kabul between Pashtuns and Tajiks. India had invested strategically in the political situation there; it did not welcome complete or near complete US withdrawal because any sudden change in status quo there threatens Indian strategic interests. India fears that change of status quo may benefit Pakistan; even the easing of pressure from TTP can make Pakistan more self-confident and demanding on bilateral relations.
This scenario is unacceptable for the mandarins in South Bloc and they need to plan something to contain it. The sense less and mysterious attack on Indian Parliament in Dec 2011, after the successful end of US operations in Afghanistan and the Indian mobilization against Pakistan then is a good example to keep in mind. The sole purpose of that exercise was to remind world of Pakistani sponsored Jihad in Kashmir and to limit Pakistan deriving any meaningful benefits from the US and west after its valuable role against the Afghan Taliban. Indian mobilization succeeded in forcing Musharraf to disengage from Kashmir, in turning Kashmiri militants into terrorists and allowing India to hold first reasonably managed elections in the troubled state.
Now once again India is compelled to strategize to limit potential Pakistani gains from the end of status quo in Afghanistan. Nawaz Sharif's innocent obsession with 1999 and inability to understand India's growing regional ambitions might be a mental block to understand what is happening. But political reaction from a genuine opposition may help to wake him up and let him listen to Foreign Office and other sane advisers around. Let's see if he can come up with some intelligent response. We all need to support him at this point since he has been caught badly by his blind trust in his PR with Modi.