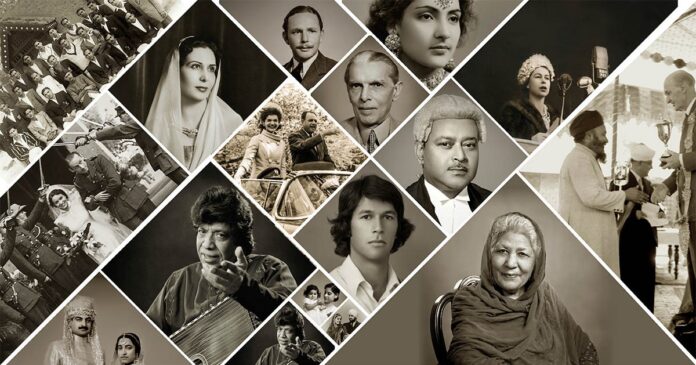 This odyssey that takes us back into the British era starts at the beginning of the 20th century when two brothers – Syed Wazir Ali Zaidi and Syed Nazir Ali Zaidi – study portrait painting at the Mayo School of Industrial Arts – now called National College of Arts (NCA). Over the next hundred years, their lens captures the changing kaleidoscope of imperial Lahore in what is now Pakistan. 
Some events barge into our consciousness and take us away from our frenzied pace of life, the recent Dastak Exhibition of Zaidi's photographers curated by Irfan Sheikh and Tanzara gallery, Saidpur, was one such majestic interruption.
Shahid Zaidi's amazing collection transports us back, in a time machine, to a different era to relive memories of a nation through its collection of photographs of people. Many of these men and women – in immaculate suits and with delicately managed buns and braids – have long gone, but their images preserved by Zaidi's lens make us hurtle back into their times.
This exhibition was shown as part of Islamabad's Art Festival activities that took place in the capital city between 18-30 November 2019. Zaidis Photographers on Lahore's Mall Road is a romantic journey of Pakistan's mind and soul.
This odyssey that takes us back into the British era starts at the beginning of the 20th century when two brothers – Syed Wazir Ali Zaidi and Syed Nazir Ali Zaidi – study portrait painting at the Mayo School of Industrial Arts – now called National College of Arts (NCA).
This art school, founded in 1875, was one of two art colleges created by the British Crown in India in reaction to the Arts & Crafts Movement. John Lockwood Kipling, the father of novelist Rudyard Kipling, was the school's first principal.
Desire to produce impact took two Zaidi brothers to different parts of vast imperial India. Wazir Ali went to Banaras while Nazir Ali went to Allahabad to set up Portrait Painting and Photography studios in 1904.
Twenty-five years later, it was Nazir Ali's son, Mohammad Ali Zaidi, who learned the skills from his father in Allahabad and travelled back to Kipling's Lahore and ended up setting the historic Zaidi Photographers on Mall Road in 1930.
Much has changed in Lahore since then, but to this day, Zaidi Photographers continues as an unforgettable landmark in Punjab's capital. Zaidi Photographer's iconic studio located on Mall road has over 500,000 negatives of their subjects, creating a kaleidoscope of the socio-cultural evolution of people that have lived, managed, and ruled this land.
You turn over the pages of history, costume, and etiquette as you move from the 1930's photos of Maharajas and Nawabs, Hindus, Sikhs Muslims, and English men and their wives, father of the nation, Mohammad Ali Jinnah, Mohtarma Fatima Jinnah, Nawab Liaqat Ali Khan, Jacqueline Kennedy with President Ayub Khan, Queen Elizabeth addressing a crowd in Pakistan, to a young impressionable 19-year-old Imran Khan.
A mere glance on the photos of grandfather Syed Nazir Ali and his son and grandson – Syed Ali Zaidi and Shahid Zaidi – shared by Dastak in its elegantly produced brochure let you see the evolution in expression, costume, and etiquette in this land from the last days of Queen Victoria to the present age of Imran Khan.
The photographs show a lost aristocratic past; they are significant for a host of reasons for different audiences. For costume designers, the range of high-quality dresses is a rich source of inspiration. The social and historian enthusiasts can study who's who of the most volatile period of our history.
In an age of selfies, where every moment is captured in a second and lost from memory once the Instagram post has been uploaded. Shahid Zaidi still specializes in making memories last a generation. No wonder, Zaidi studios, a quintessential national institution, are considered a hallmark of vintage Pakistani photography.
As the science of photography has developed, so have the studios. Zaidis have gone from using large format cameras, roll films, and wet darkrooms to state-of-the-art digital photography supported by computer lab.
But while technology has moved on, the artist in Shahid Zaidi remains intact as he plays with his subjects commanding them to tilt their heads, produce smiles, and a twinkle in their eyes as he adjusts the shadows through downlights and up lights.
Islamabad's "Dastak" Exhibition could happen because of excellent collaboration between Noshi Qadir of Tanzara Gallery and an unusual connoisseur of arts, Irfan Sheikh.
Irfan, is a senior executive in Cement Industry and one expects him to be specializing in limestone, marble and chalk but his spirit is in lenses and lights.
With cameras and photography his real passion, he is devoted to the legacy of Zaidis and has worked hard with Tanzara Gallery to make this exhibition possible. But Zaidis bring forward a bigger cause to the capital city. Their collection since the 1930's consists of more than half a million meticulously maintained negatives with customer details.
Most of these men and women have moved on since then – but their images offer a kaleidoscope into their times and our history. Few years ago, Zaidis embarked on the mission to digitise their archives. Goal is to build a database and put it online for public. It's a humungous task but much needed for posterity.
We hope either the government or an institution will step forward to help and share this burden of history. We have selected a few images that take us back through Zaidi's time machine – Editors.