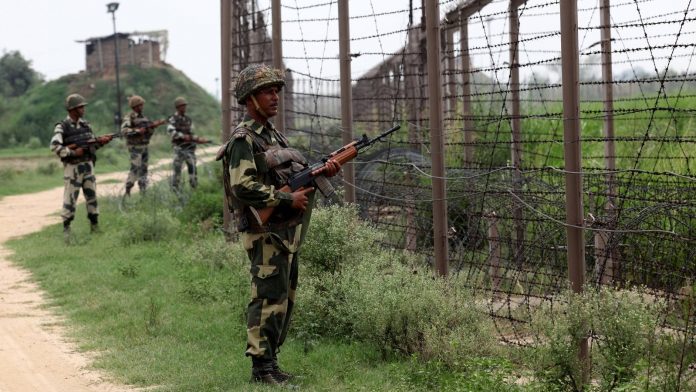 Indian TV giant, NDTV's website reports that Indian NSA, Ajit Doval, has briefed Indian PM Narendra Modi that 100 Pakistani trained terrorists are ready at launch sites close to LOC, in Pakistani Kashmir. NDTV cites 'sources' for its news story and claims that information collected by intelligence agencies has been shared by NSA, Doval, with PM Modi and Interior Minister, Rajnath Singh, prior to the meeting of Cabinet Committee on Security (CSS) and this information presented to the ministries of Defense, Interior and Foreign Affairs.
100 Terrorists At Launch Pads Near Line of Control, PM Narendra Modi Is Told
NDTV story claims that now – after India's surgical strikes in the intervening night of 28th and 29th Sept, in which seven launch sites were destroyed and a very large number of terrorists were killed – Pakistani infantry is protecting the launch pads of terrorists. Objective of Pakistani army, according to NDTV is to facilitate entry of large number of terrorists into Kashmir before the winter sets in, and mountain passes are covered with snow. NDTV further claims that Pakistan's objective is to escalate violence that since the death of terrorist Burhan Wani has seen 9o deaths and 10,000 injured.
NDTV, is India's respected English TV channel – a brand name to which national, regional and international credibility should be very important. This report, citing 'sources' raises several questions. First, Does it mean that Indian surgical strikes of 28th Sept (denied as an 'illusion' by Pakistan but claimed to be hugely successful by Indian Govt) have not produced any moral or desired effects on the militants and their supporter's? Second, Immediately after the Uri attacks and later after the Indian claims of 'Surgical Strikes' many similar stories appeared in Indian media -especially linked with tv – citing 'sources' and were later found untrue. All news stories citing 'sources' serve two functions: they help create a certain narrative that is absorbed by public but they offer plausible deniability. Governments can always deny these as 'media speculations' or inaccurate sources.
NDTV's story may be inaccurate and NSA might never have given such a briefing to Indian PM. But it could be also be true. But in this case, not many people in Indian PM Office might have known of it. Apparently such inside developments, especially a briefing by NSA to PM Modi, before the CSS meeting will be top secret, so one wonders who has leaked it? If this is a deliberate leak then it must have a purpose behind it. What is the purpose?
The message that appears from this NDTV story is that the human tragedy in Kashmir in which more than 10,000 people have been injured, hundreds shot in their eyes and almost 100 have died is not an indigenous crisis of an alienated population needing a political solution but is all a function of terrorists being sent by Pakistan from across the line of control. If true, then this NDTV story, also sets the stage for further Indian saber rattling against Pakistan on Line of control in Kashmir. Most analysts note that since 'Uri Attack' the political crisis in Kashmir, with all its human right dimensions, has totally disappeared from Indian, Pakistani and international media and has been replaced with the 'Indo-Pakistani Tensions'.
This NDTV story comes in the background of ongoing telephonic contacts between the NSA's of India and Pakistan. Apparently one day earlier, Indian NSA Ajit Doval called his Pakistani counterpart, Gen. Nasir Janjua in an attempt to reduce tensions across LOC. Pakistani media was not sure that who – amongst Doval or Janjua – initiated this dialogue.
Janjua, Doval talk to dial down tensions, Express Tribune
Indian media however downplayed the talk between both NSA's, calling it fairly routine and ridiculing Pakistani Foreign Office for making a big news of it. Indian officials, according to Indian media, argue that Ajit Doval has merely informed Gen. Janjua of what actions India took on the night of 28th Sept.
India Downplays Ajit Doval's Exchange With Pak, Officials Say Routine
Two totally divergent views of the same event are thus appearing. Pakistan foreign office sources claiming that this was Ajit Doval's second call and he has expressed Indian desire to de-escalate. Impression in Pakistan, within Foreign Office, is that Doval is doing it because of behind the scenes US pressure which has not appreciated Indian attempts of border incursions across LOC in Kashmir. Similar stories had appeared in Pakistani media immediately after the Indian claims of 'Surgical Strikes'
India contacts Pakistan to avoid Escalation
Given the background of two NSA's talking to each other, the latest story by NDTV that Indian NSA has briefed Indian PM of 100 terrorists about to infiltrate with the help of Pakistani army creates lots of confusion. However other news item indicate that within India opposition, especially Congress in Punjab, is accusing Modi government of deliberately drumming up a war hysteria. Amarinder Singh, Congress President in Punjab has accused PM Modi of deliberately creating a war hysteria to benefit politically in the forthcoming elections in Punjab and Uttar Pradesh (UP). Singh claims that such tactical border incursions have been made under Congress in the past as well, but silently as per military or border needs without trying to politically capitalize upon them. He has expressed surprise that on one hand PM Modi is asking to de-escalate with Pakistan but on the other hand he is deliberately creating a war hysteria. He was reacting to the evacuation of almost 1000 border villages in Punjab that lie within 10 km of Pakistani border. Amarinder Singh expresses surprise that why villages are being evacuated when both Indian and Pakistani armies are in their peace time positions.
Are We At War With Pakistan? Amarinder Singh Asks PM Modi
These pointed questions by Congress leadership in Punjab have been raised at a time when Congress and Arvind Kejriwal of Aam Admi Party (AAM) are already expressing doubts about the claims of 'Surgical Strikes'. Congress leader, Sanjay Nirupam, created a storm when he suggested that surgical strikes look fake unless Modi government shows evidence.
Surgical Strikes Vs Pak 'Fake,' Need Proof: Congress' Sanjay Nirupam
Reaction from Modi government and BJP and its allies was so severe that Congress had to disown the position taken by Sanjay Nirupam. BJP supporters accuse that any one demanding proof of the surgical strikes is aligning with Pakistan, is insulting Indian army and should migrate to Pakistan. Arvind Kejriwal met similar fate. Now both Congress and Arvind Kejriwal's latest position is that while they support PM Narendra Modi's 'Surgical Strikes' but its important to show evidence to disprove Pakistani propaganda and to expose Pakistani lies which have been picked up the International media.
On Strikes, Congress Says 'Expose Pak', BJP Slams Calls For Proof
BJP sources claim that footage of surgical strikes was made by use of drones and can be released with the consensus of commanders and the government decision makers. From this controversy and its political outfall it appears that Modi Government will have to show some sort of evidence of its claimed 'Surgical Strikes'. What that evidence will be and how Pakistan reacts to that remains to be seen.