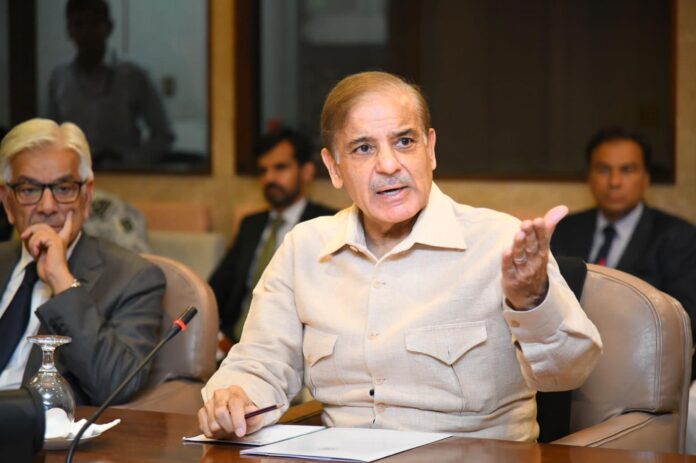 Shahbaz Sharif, a veteran of Pakistani politics for the past three decades, is now PM of Pakistan. He has thrice before served as the Chief Minister of Punjab (1997-99, 2008-2013 & 2013 till 2018) and is considered an able and effective administrator.
Over his years as CM Punjab, Shahbaz Sharif earned the reputation of a chief executive who developed a good working relationship with bureaucracies, big business, Chinese investors, and Western donors. Though unlike Nawaz Sharif, his elder brother, he has never been perceived as a populist leader on the streets but he earned his reputation as a bridge-builder who can produce consensus and take diverse interests along. He is a workaholic who is known to have called cabinet or administrative meetings at 6 am.
Despite the shrill narratives of his brother, niece, and many in the party, he never uttered political rhetoric against the country's powerful military establishment and has always acted as a troubleshooter – and has been seen as a responsible, no non-sense politician by the establishment and international community with whom he built a relationship of trust through the donor community lead by UK Aid (formerly called Dfid)
PM Shahbaz Sharif's immense political challenges
But PM Shahbaz Sharif faces formidable challenges. At this moment, his almost 10 political party alliance in the national assembly crosses the minimum required threshold of 172 with only two votes. He had won with 174 votes in a house of 342 (since the acting Speaker of his party could not cast his vote), but since then, one MQM MNA has died and there are rumblings of dissatisfaction from various smaller parties.
Shahbaz's party, PMLN, has 84 seats, the second party in the ruling alliance (PPP) has 56, and the rest of the seven political parties provide the remaining 34 votes. This is, at best, a fragile balance and, at worst: a political nightmare.
This arithmetic alone is hugely problematic given Pakistan's fickle politics of changing loyalties – and Shahbaz will continue to need the goodwill of the country's establishment that was under allegation by the PMLN/PPP alliance for repeatedly bailing out Imran Khan government at every crucial juncture.
But Khan's party was the single largest entity in the national assembly with 155 members versus PMLN's 84. He was still considered on crutches for the 17 members he needed to survive. And the way he was ousted has created severe fissures in Pakistani politics and the society – and Khan has since created a credible challenge on the streets with a significant rise in his popularity across KP, Punjab, and Karachi. His rising popularity reflects a reaction to the way political change took place.
First time in the parliamentary history of Pakistan, a sitting PM, Imran Khan, was ousted through a vote of confidence. Attempts were made a few times since the restoration of democracy in 1988, but none succeeded. Though Imran Khan, former PM, as per his declared pronouncements, fought till the end, creating high political drama and dissolved assemblies in the act of political and constitutional brinksmanship setting the stage for the general election – the Supreme Court of Pakistan, in an equally controversial decision, blocked his way restoring national assembly.
But in the process, the apex court – by ignoring the firewall of Art. 69 of the constitution – seriously undermined the concept of parliamentary sovereignty and trichotomy of powers – between parliament, judiciary, and the executive – around which the balance of power system is built.
Earlier apex court failed to pronounce a judgment on the Presidential Reference sent to it. Reference by President Dr. Alvi wanted Supreme Court to interpret Art. 63-A of the constitution that attempts to stop and punish floor-crossing in case of "Vote of Confidence and No Confidence ."This is still pending in the court; had the court decided the nature and period of disqualification, then the fall of the PTI govt in Punjab would have been impossible and even the fall of the Imran Khan government in the center would have been unlikely – since PTI allies were encouraged by the specter of PTI defectors.
When seen together, all these developments have created the public perception of an engineered change that is now driving the politics of former PM Imran Khan across Pakistan.
PMLN: Impressive Cabinet but difficult partners?
Shahbaz Sharif faced an uphill task and took 10 days to create a cabinet from this 10-party alliance -and some believed with the help and push of the country's establishment. But despite the delay, he managed to collect an impressive team that reflects years of political and administrate experiences.
Shahid Khaqqan Abbasi, ex-Prime Minster (2017-18) and with experience of petroleum and aviation, declined to join the cabinet but heads an Economic Advisory Council that advises PM Shahbaz. Ahsan Iqbal, who first served as head of the Planning Commission in 1997-99 and again in the 2013-18 government before becoming Interior Minister brings a wealth of experience and is widely considered inside PMLN as an "ideas man ."
Khawaja Asif, with PMLN since the early 1990s, has become Defense Minister – he has also previously served as Defense Minister and foreign minister (2013-2018). Khurram Dastgir, who represents PMLN's stronghold of Gujranwala, has assumed the mantle of Minister of Power. He has previously served as Minister of Commerce, Defense, and Foreign Affairs.
PMLN insiders have confided to this scribe that the party wanted to maintain the "Energy Ministry" – previously headed by Hammad Azhar in the PTI govt- and was considered a necessary forward-looking idea to combine power, electricity, and petroleum under one composite ministry. However, it could not happen due to the pressures of accommodating too many diverse political interests in the 37-member cabinet.
Mr. Dastgir now faces the challenge of power shortages and load shedding that adds to political challenges. Power shortages, a subset of the country's troubled energy challenges is the main component of its economic predicament. Dr. Musadiq Malik, who has served abroad and with the previous PMLN govt in different capacities, is now the state minister for petroleum.
Ayyaz Sadiq, who had graced the 2013-18 National Assembly as its Speaker and earned much respect for his conduct, had initially declined a role in the cabinet but finally accepted Economic Affairs. Maryam Aurangzeb – who had briefly served as the country's information minister in the 2017-18 period – is again Information Minister in Shahbaz Sharif's government.
Since 2018 she has been PMLN's principal spokesman on media and is known for her hard-hitting stance. Senator Azam Tarar, a respected legal expert who created a name in bar politics, is now the country's law minister.
Shahbaz Sharif's nightmare of running a 10-party government?
But this 10-party hybrid government led by Shahbaz Sharif faces many intractable political and economic challenges. In the first instance, PPP, its main partner with 56 seats in the house – and controlled by wily ex-President Asif Ali Zardari – has stayed away from key positions of responsibility.
Bilawal Zardari Bhutto, son of Asif Zardari, has become the country's foreign minister, with Hina Rabbani Khar as his state minister. Hina had previously served as foreign minister in the PPP government of 2008 -13 and brings valuable experience. But apart from this, PPP had mainly shown its interest in constitutional positions.
It has elected Raja Pervaiz Ashraf, ex-PM (2012-13), as Speaker National Assembly and was interested in the positions of Governor Punjab, Speaker of Punjab Assembly, and the President of Pakistan – if and when these become available.
Simply put, while PPP is part of the power structure and wants to improve its standing in the South Punjab in its bid to re-enter mainstream politics, responsibility for running the show and taking the blame for confronting Imran Khan's declared Long March on the capital had to lie with PMLN and its team.
However, in a twist to this plot, PMLN – which appears to be making its decisions in London – has successfully persuaded PPP to forgo the position of Governor Punjab, where PMLN has nominated its candidate, Baligh ur Rehman. Rehman has served twice as a minister in previous PMLN governments. PPP has now settled for three ministers and two Special Assistants in Punjab.
However, this will continue to remain an uneasy relationship. Both parties have been historic rivals since the emergence of PMLN in the 1988-90 period. And it is widely believed that PMLN was conceived and designed by the then military establishment to counter PPP in Punjab. PPP of ZA Bhutto was predominantly a Punjabi party, founded in Lahore in 1967 and retained its dwindling size and influence in Punjab until the elections of 2013.
Throughout the 1990's it was increasingly marginalized by the rise of PMLN under Nawaz Sharif and after 2010, its remaining electoral support was gobbled by the rise of Imran Khan's PTI.
Challenge of forming a government in Punjab?
Twist to the Punjab politics is that while PM has issued a notification that announces the end of tenure for the current Governor, Omar Sarfaraz Cheema, and has confirmed that Pervaiz Elahi, Speaker Punjab Assembly, will be the governor till the appointment of the next governor; it is still not clear if President will let Omar go. Till the present crisis, the office of the President was considered a ceremonial position, but this was assumed because President was always from the party of the Prime Minister.
For the first time since 1997, President and the PM are from two rival political camps and Dr. Alvi has used his constitutional position to make life difficult for the PMLN lead political setup. PM Shahbaz's son, Hamza Shahbaz, has been a Chief Minister in waiting for the past several weeks and with the current confrontation continuing, he may have to wait for several more days.
This situation has an unpredictability built in it – for Punjab and the central government. Hamza had succeeded in a vote of confidence that was full of cartoon-style violence, with Punjab Police fighting his rivals (PTI & PMLQ) on the floor of the assembly. Images on TV screens presented a dark comedy with parliamentarians of the country's largest province fighting each other like the sour end of a drunken bar party.
When this macabre contest ended, Hamza Sharif had won 197 votes against Speaker Pervaiz Elahi. He only needed 186 to succeed, so it looks like a convincing win. But the twist is that 25 votes in this tally of 197 belonged to PTI defectors who sided with him under allegations of horse-trading and vote-buying. Now the legal implications of all this drama are under final consideration in the Election Commission of Pakistan that is set to disqualify these PTI defectors (Punjab MPAs) since they had already voted and ECP has no options to offer them reprieve – unlike the PTI MNAs who had not voted on 9th April.
Supreme Court is also expected to decide the nature of disqualification, whether it will be for a term, for life, or merely for five years. Whatever may be the outcome, the political balance of power in Punjab can change at any moment. With a wily politician like Pervaiz Elahi now acting as Governor and an unfriendly President, in the form of Dr. Arif Alvi, this challenge becomes more serious.
If Hamza's government fell even before the formation of his cabinet, then the power dynamics would change. This could start the process of unraveling Shahbaz's government in the center. In Pakistani politics, whosoever controls Punjab rules Pakistan.
On the national political front, former PM Imran Khan has demonstrated his popularity on the streets across three provinces. He has convinced the country's urban middle and professional classes, leading business houses, ex-veterans and large Pakistani diasporas across the world that he was removed from power – as a result of a conspiracy – at the behest of the United States.
Details of this political debate are beyond this article, but most Pakistanis have accepted this narrative converting the political debate from issues of performance into one of "Right and Wrong."
Imran Khan's govt fell when its allies – MQM and BAP – left it. Prime Minister Shahbaz Sharif might have a similar challenge not only to get along with the MQM-P, BNP and BAP but with the PPP and JUIF; both will continue to look at the changing political kaleidoscope being shaped by Imran Khan through his protest demonstrations, processions and marches.
Keeping them all on one platform needs continuous support and goodwill of the country's establishment, which is under tremendous pressure that has never been seen since 1971. Fixing the country's troubled foreign policy is another challenge. But given the former PM's allegations regarding US support for the Sharif government and its context with India, any quick progress with Washington and Delhi will not be possible.
Challenges of IMF and creditors in the Middle East?
After some promise in 2021-22, the economy is back on a troubling track. Managing it will be a considerable challenge. Pakistan's expanding import-export balance, crippling debt, rupee's all-time low nosedive against the US dollar, sky-rocketing inflation, and shrinking reserves are key areas that necessitate immediate attention.
The people are grappling with double-digit inflation, as well as wage and job losses, as macroeconomic indicators decline. All these indicators led to stagnation of growth and fewer prospects of genuine improvement. Confronted with these challenges, PM Shahbaz and his team traveled across the world to seek financial leverage from the IMF, Saudi Arabia, and UAE. Unfortunately, no quick help was available.
Govt sources kept claiming that crown prince, Mohammad Bin Salman, has agreed to provide financial leverage of around US $ 7.4 billion – including rollover of previous support of $ 3 billion and deferred oil payments. Another $ 1-2 billion were expected from UAE. During Dr. Miftah's trip to Washington, it was claimed that IMF had agreed to add another $2 billion to the current program where the previous PTI govt had only availed $ 3 billion since June 2019 and $ 3 billion were to be received till September 2022.
Dr. Miftah Ismail had initially demanded a new program from IMF, but sources privy to the developments claim that IMF was not ready for that and instead suggested providing an additional US $ 2 billion in funds. However, the IMF team that was supposed to arrive in Islamabad on or before 10th May to finalize details has not come and is not arriving at all.
IMF team now wants to meet a Pakistani team in Doha on 18th May – and that too only once Shahbaz Sharif government ends the subsidies on petrol and diesel. But that would add to the government's political challenges – already not mean by any standard.
Shahbaz Govt: Waiting for a miracle!
The new government had initially indicated that it would like to dissolve assemblies within three months after the budge and some electoral reform. But looking at the rising popularity of Imran Khan, they now want to delay elections as long as they can. They want this time to weaken Khan's wave of popularity.
However, even here, there is a PMLN/PPP fault line. Many in the PMLN don't want to delay elections; they think Imran Khan should not get too much time to shape a toxic narrative across Punjab and a turbulent economy will only help him. But PPP's leader, Asif Zardari, wants elections to take place in 2023, giving him time to consolidate his position in South Punjab. Shahbaz Sharif also sees this premiership as his first and the last opportunity to head Pakistan.
If the Shahbaz government takes realistic decisions, it will dent public expectations, which are already undergoing hard-hitting inflation. If it goes with populist decisions such as holding back petrol and electricity price hikes, just as the outgoing Khan did, that will put an unmanageable burden on the economy.
Confronting the simultaneous political upheaval in the shape of PTI rallies and its decision to resign from the National Assembly puts more onus on the new government. Given these multi-dimensional challenges, it looks that – despite an experienced cabinet – the Shahhaz govt will find it difficult to delay elections for very long. But miracles can always happen. Especially in Pakistan!