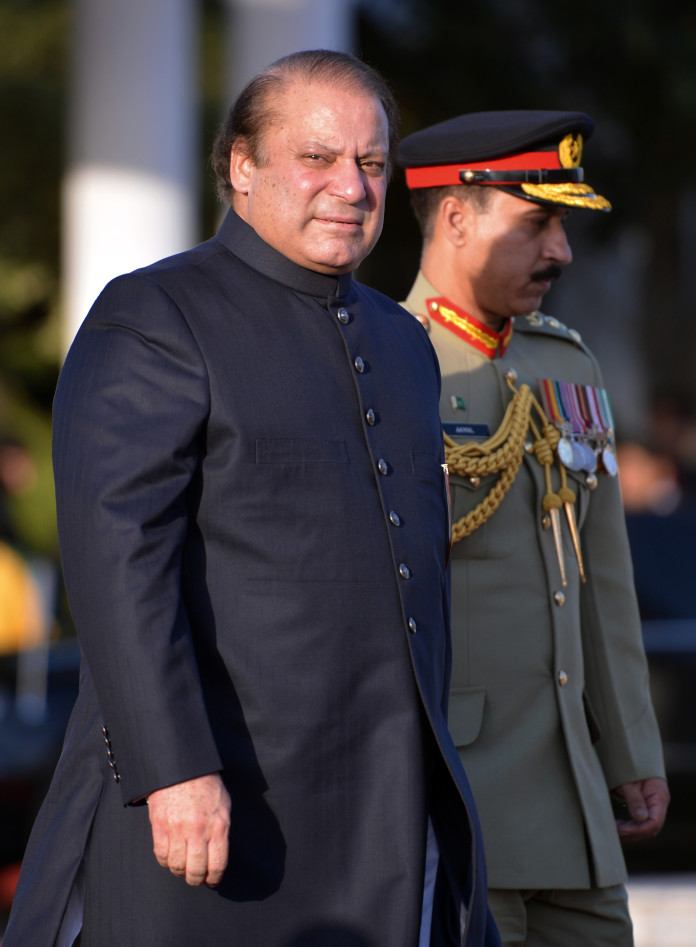 Mir Shakil ur Rehman, owner of GEO TV, overplayed his hand two days ago when he erroneously believed or was made to believe that his direct attack on ISI and Army will help in firing the ISI Chief. He went on the frontal assault without having any evidence to substantiate, because he was getting a nod from somewhere. This is called 'drunk with power' or 'impunity'. This was perhaps also an attempt to boost up the sagging popularity of his once 'mightiest channel'.
However what he didn't realize was that all other TV channels will gang up against him; he also ignored that opinion making has effectively shifted to Social Media where millions of more younger & educated Pakistanis express themselves more freely in a horizontal fashion and their anger resonates and becomes "force multiplier" because of sharing tools. Also by the next morning there was an internal realization by most people inside channel that attack represented some third force and that Hamid was under threat from many other sources; which is now becoming more and more clear.
MSR could have averted this disaster if he had a more professional and genuine "Director News" like Azhar Abbas who would have advised him or resisted this relentless attack against the ISI that continued for several hours. Govt unfortunately was a loser. Its reaction was intriguing. Instead of realizing that the initiative through the channel is backfiring by creating deep and wide resentment they appeared like taking pleasure out of it, thinking it useful in their own ongoing tussle with the Army. This was a huge blunder; Army waited for two days and finally this morning lent its full support to the ISI; Nawaz govt therefore lost a God sent opportunity of asserting its leadership over the whole political system including the ISI and Army.
All it needed was either the PM or the Defense Minister condemning the attack on Hamid Mir in strongest terms, but while promising a high power Enquiry it needed to warn GEO and everyone else that Govt stands by its national institutions and if there are any rogue elements it will punish them severely but won't let anyone dishonor and disrepute its 'key institutions'. Why Nawaz Govt could not do it? Analysts will argue that they were actually aligned with the channel and had sour feelings due to the continuing confrontation with the Army over Mush trial and Defense Minister's comments etc.
What ever the inside reasons may be, govt failed to do "damage control" on Sunday night creating the widely held belief that it had aligned itself with the tv channel against its own military. But that was not all; the longish celebratory tweet by TTP on 20th declaring that ISI had attacked Hamid and that Army & ISI are the real obstacles, the real evil, against their Sharia Rule made it look like as if Govt is aligned with GEO at one end and TTP at the other against its own Army & Intelligence. It was the most bizarre possible scenario one could imagine that alarmed many in the key diplomatic community.
Meanwhile Army that was watching the whole situation with mounting frustration ended up concluding that the whole thing was a conspiracy against them and they have no option but to act. So finally when Army made it clear, in black & white terms, that Govt needs to decide between a private channel and the Army, the govt – due to its repeated blunders – had no steam left to resist. Govt will off-course help GEO as days pass; it may not be closed and a lesser punishment may result in the end. Though we must keep in mind that many large channels across the world have been closed under similar circumstances by regulators or governments.
I suspect, Mir Shakil ur Rehman will cry endlessly and beg mercy everywhere from Islamabad to Washington to London to Brussels and will try to use all that influence it has created inside the legal system. Efforts will be done to blame some journalists (who did not realize till now that they were being used) and to suspend or fire them or shift them toother positions etc… [programs since Mon only prove that such a strategy is in process; similar techniques were used in 2007]. Any fair citizen's objective (however angry we might be at this moment) should not be to close such a creative channel like GEO for ever.
However this is an important moment in our media history; this should lead to Media Reform with Regulator compelling channels for Internal Reform and Accountability and Systems of Internal Checks and Balances so that it is not possible for Seths/Investors to control journalists like Robots in their personal political agendas.
GEO may also come back as a changed channel; but lets make no mistake: GEO had brilliant history, its future is less and less glamorous. It will no longer be able to sell itself as voice of Pakistan. That era is over. Moral lesson: No man, however intelligent, should try playing God…