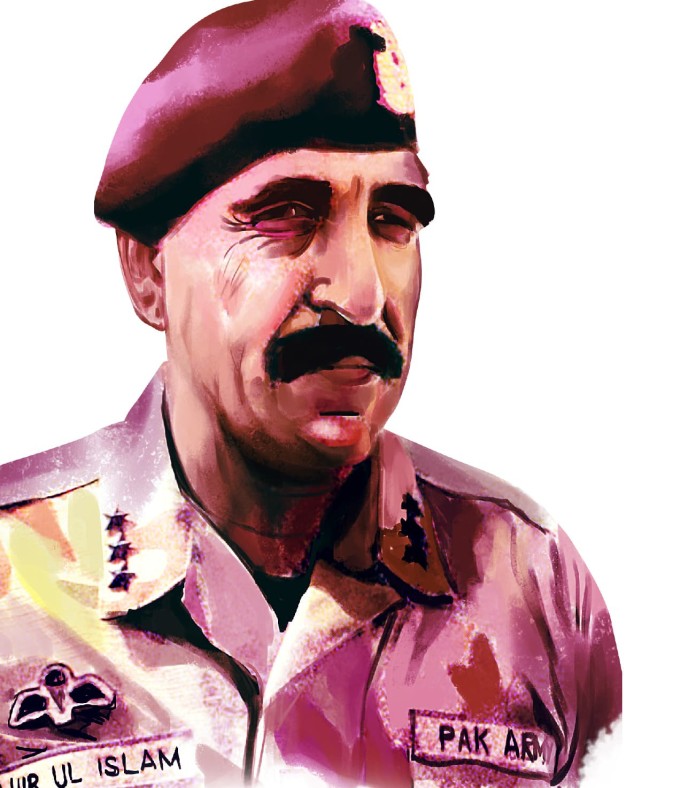 Moeed Pirzada | FB Blog |
Changing Nature of Conspiracy Theories by Nawaz Govt: This is now getting hilarious! First it was the Army planning to capture key installations and bring "Arab Revolution or Rose Revolution" through Imran and Qadri so Army was called in to face their own "creations". Then it was discovered that Qadri represented Iran's Shia Agenda and wants to create anarchy along with Wahdatul Muslameen.
As political situation changed everyone was quietly told that it was only DG ISI and one or two Brigadiers were trying to bring a revolution but Army is not part of it and that is why it is not succeeding. With the carefully planned defection and staged interviews of Pakistan's perpetual rebel, Makhdoom Javaid Hashmi everyone was made to believe that Imran Khan was working for ISI Colonels – and also that the poor guy does not have reach beyond that.
Interestingly fearing that Supreme Court may not decide something regarding Election Audit, Hashmi was cleverly made to implicate the Chief Justice as part of the conspiracy. (As a preventive measure). On the floor of Parliament PM Nawaz told the nation and the world that Imran and Qadri had wanted Military Chief to meet them; later we learnt that it was a confusion and miscommunication between Nisar and Nawaz. The famous clarification "Oh pay kainday nay? (punjabi) – and we soon learnt that in fact the PM himself wanted military Chief to help resolve this political crisis. With Corps Commander Meetings it was revealed that at least 5 Corps Commanders plus DG-ISI were part of the conspiracy but Military Chief is standing rock sold for democracy and fortunately all "dirty eggs or conspirators" will be retiring soon and may be tried in the footsteps of Erdogan's Turkish Model and will rot in jail along with Musharraf. Then we heard and read in print (Front Page Newspapers in Second Week of Sept) from top Govt Politicians claiming that in the presence of this military Chief (Gen. Raheel Sharif) no conspiracy against govt and democracy can succeed.
In between we were told – once again quietly in hushed tones – that Americans and the elements in the military conspired together to fail the visit of Chinese President to Pakistan and to destroy the investment vision of the govt that was set to resolve country's energy crisis with generous $32 Billion Chinese investments and was to turn Pakistan into Germany in few years. And now for the past few days the theory being circulated is that Imran & Qadri along with dirty elements in ISI are in fact an American plan, a CIA plan, to create chaos across Pakistan and all these demands of new provinces and devolution are part of the script to create anarchy. So the ever-naïve Mirza Aslam Baig's interview is only part of the ongoing revelation; his only addition is that in his comments he is making Pakistani Military as that "wise guy" that smelled the rat and decided not to fall into the trap. Conspiracy theories are always interesting.
They are an important speculative tool to discover truth. However even Conspiracy theories too have to have some consistency as they represent a "mind set" and sets of prejudices. Unfortunately Pakistani Govt and its allies theories are hay wire moving in different directions changing as per need and convenience. What appears more plausible in Pakistani political crisis is that Nawaz Govt has tried everything: Preventive Police Action in Model Town Lahore to spread fear and panic; Containerization of Lahore and most of Punjab around GT Road, Police Crack Downs, Thousands of Arrests, Planting stories in International Media & News Agencies against ARMY; making ARMY responsible under Art. 245; putting ARMY on defensive through continuous scandalizing and maligning in Parliament through carefully choreographed speeches so that ARMY can not pressurize govt to find a meaningful political solution; investing massively in media to dehumanize Qadri and ridicule Imran to show him as a non-serious joker, as a stooge of Colonels, staging acts like Attack on Ptv to create national and international furor and diversions and praying to Allah to send more and more rain.
And while many of these strategies have worked, the discomfiting fact is that "dharnas" and protests have assumed a life and character of their own. As government has shown its unwillingness to find a "genuine meaningful political solution" in the hope that time and fatigue will resolve the crisis the other side too has learnt to improvise. Imran Khan's Karachi Jalsa is another evidence of that. Hence the final desperate attack: Protests are not going away because they are an American Plan.
Reality is that United States, UK and EU and all elements of their global power and influence (Print & Electronic Media, Human Right Organizations, Media Monitors like RSF, Civil Society Groups and NGO's and so on) have solidly stood with Nawaz Govt under the impression planted by the Nawaz Govt that what it faces is not a "political challenge for change and reform" but a conspiracy by its military and the battle in Pakistan is for "Civilian Supremacy over Military". That has worked well for Nawaz Govt, to the extent that gross police brutality, human right violations, sackings and beatings of media, and abuse of state authority by a collection of dynastic elite (Sharifs, Zardari, Maulana Fazal ur Rehman and Achakzai) have all been ignored by international community and even diplomatic corps in Islamabad. But now Nawaz Govt is panicking again, because it has tried everything and yet the "political feeling" is spreading across cities. Dharnas and size of crowds in Islamabad have lost meaning; with roaring crowds in Karachi a totally new reality is being born – Other cities may soon follow.
Another problem is that diplomats and Political Affairs of key missions have slowly started to ponder: will Nawaz Govt faced with all this resistance be able to govern and deliver? – the Solution for the Nawaz Govt is accepting "Election Audit" and Political Reform. Planting stories against CIA and United States will not help. What we are witnessing in Pakistan is a middle class movement against status quo of dynastic control.