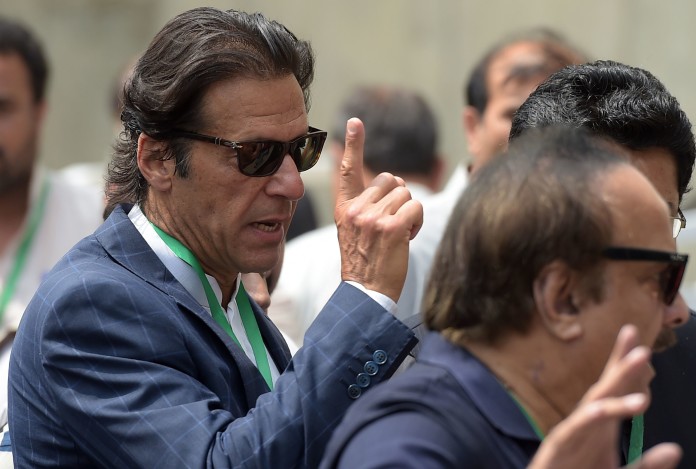 Moeed Pirzada | FB Blog |
Ref: Last Night Discussion on Form-14 Verifications:- Discussion with Mudassar Rizvi & Fawad was a bit technical but very important to current political crisis and negotiations. What we all need to understand is that the fundamental, the most necessary election record for verification is Statement of Count called Form-14. This Form-14 (Statement of Count) when filled completely details the: Total Registered Voters at the Polling Stations, Male Vote, Female Vote, Vote Cast, Vote Rejected and Total Accepted Vote. Form 15 & 16 prepared by Returning Officers (RO) that give the total result of a Constituency as to who has won is only a simple addition of all Form-14's received from all Polling Stations.
Each Constituency of National Assembly in Pakistan consisted of anywhere from 250-300 Polling Stations. Each Polling Station was headed by a Presiding Officer designated by Election Commission. Who and who were appointed by Election Commission is an essential record; these were mostly officers of Education Department or Agriculture Dept. or such other provincial govt departments. Their "signatures" and "thumb impressions" are not only part of NADRA record but are also available from AGPR Office from where they draw their salaries.
Most Polling Stations have registered voters anywhere from 700 to 1500. So if Polling ends at 5pm, within 2-3 hours Form-14's are ready for distribution to Polling Agents and onward deposit to the Returning Officers. At every Polling Station at the end of Voting, votes were counted within 2-3 hours supposedly in the presence of polling agents of several political parties. Presiding Officers by law issue Form-14 after signing on their names & titles, fixing their own thumb impression and writing CNIC. This constitutes a dully Filled Form-14. Form-14 is a Public Document; it should be put outside the Polling Station; may be given to Media and given the universal presence of new Camera software in every phone we can capture their photos for record.(Suggestion for Media and Election Monitors for Next Elections).
What Mudassar (FAFEN) was suggesting was that before a Judicial Commission or any JIT starts to go towards the Vote Count, the first basic steps should be done which will reveal a lot about the Elections and the next steps like Vote Count in Constituencies. The first basic steps should be to verify if Election Commission has all Form-14's dully filled from all Polling Stations of all Constituencies. There should be around 69-70,000 Form-14's for National Assembly and the same for Provincial Assemblies (since same Polling Stations were used) so around 138-139,000 Form-14s should be in possession of Election Commission. (ECP as per its own plan and commitment was supposed to put scanned copies of all these Form-14's on its Website but for reasons not explained it has not been able to do it, which itself is a very suspicious act and raises very difficult questions).
Once ECP confirms the presence of dully filled Form-14's, the next simple step is verification of the "thumb impressions" and signatures of the Presiding Officers on these Form-14's. Since the record of the appointment of the Presiding Officers is available and their signatures and thumb impressions are part of record in NADRA and AGPR so it should take only 2-3 or at most 3-4 days of electronic work by NADRA to verify if the Form-14's with ECP used for final Election Result are the same that were issued by designated Presiding Officers at the designated Polling Stations or they were changed at a later stage at the level of RO's or DRO's.
It is important to understand that RO or DRO or ECP cannot change the Form-14 once issued without the Due Process of Law. Also keep in mind that large number of copies of the Form-14's issued by Presiding Officers are available with PPP, PTI, PMLN, other parties, Election Monitors and Media and once these Form-14's are made available on ECP's website it is possible for public to check if the Form-14's used by ECP for result calculation are the same that were issued by Presiding Officers in the evening of 11th May 2013 (Day of controversial Elections)
This is only one step; many follow through steps are possible. FAFEN may issue a press release which we will follow. What is the basic idea? The idea is that Election Investigations is a fact finding mathematical job; this is not a legal or constitutional task. Legal and Constitutional issues are very secondary or tertiary in this task. This explains why Election Tribunals are not of much help. Because in Election Tribunals allegations are being addressed or scrutinized as per law and procedure. Complainants are supposed to bring hard evidence of rigging which they often can not assemble on their own. And the issues keep on dragging. So Election Tribunals – the way they are working – have limited application to this challenge of fact finding and determination of what happened. For example whole Town may have seen a murder but in a Pakistani court room it may still not be possible to prove that who killed whom. Election Tribunals unfortunately, the way they are constituted, also fall in the same category.
This also explains why PTI & Govt Negotiations are not reaching anywhere. PTI wants Constituency records (30 or more Constituencies) and documents, votes etc to be checked and scrutinized which is simple common sense of "fact finding". But PMLN & Allies term this as "Super Tribunals" and unconstitutional. When in his latest address to the concluding hours of Joint Parliamentary Session, PM Nawaz Sharif said that "we won't accept any constitutional demands" he was not worried about his "resignation" he was referring also to this process of checking Election Results. What PMLN has been suggesting (when they say we have accepted Five Points) is that Judicial Commission should investigate allegations leveled by Imran Khan and PTI against RO's, DRO's, Iftikahar Chaudhry, Najam Sethi and ECP etc or allegations that PMLN was responsible for rigging through Interim Governments or that PMLN was the beneficiary. This is a legal trick, the kind of which is used by lawyers in courts to defend their clients. In terms of Investigations into the Elections, the basic Election Audit these are meaningless time wasting excuses and nothing else.
We hope these ideas, discussed in 19th Sept, 2014 ARY Special broadcast and this Facebook Note reaches all political parties and Siyasi Jirga and it may help them. We have not seen PTI Negotiations Team's final and actual written suggestions handed over to PMLN & Allies in govt but we have seen the proposals by Siyasi Jirga of JI and PPP and Sisyasi Jirga proposals are definitely weak, ambiguous and wishy-washy. They don't offer any mathematical result oriented Audit of the Elections. All political parties, media pundit and students of political science and Pakistan's international stake holders need to realize that given the doubts and controversy around Election 2013, any next elections in Pakistan will be meaningless unless the nature of irregularities of Election-2013 are resolved and lessons learnt for Electoral Reform. Similarly Election Commissions recommendations today for Electoral Reform and Electronic Voting etc are another waste of time since Electronic Voting can be doubly dangerous without creating institutions of integrity and the Members of current Election Commission have lost their trust in public eye; they should just resign.
Elections are the only reliable instrument for a "Transition of Power" in a democracy. Future of Democracy in Pakistan is at threat not because of protests but because Elections-2013 are most controversial since 1977 and significant sections of Pakistani population have lost trust in that exercise and there won't be any trust in a future elections without resolving these issues. – More later on this.