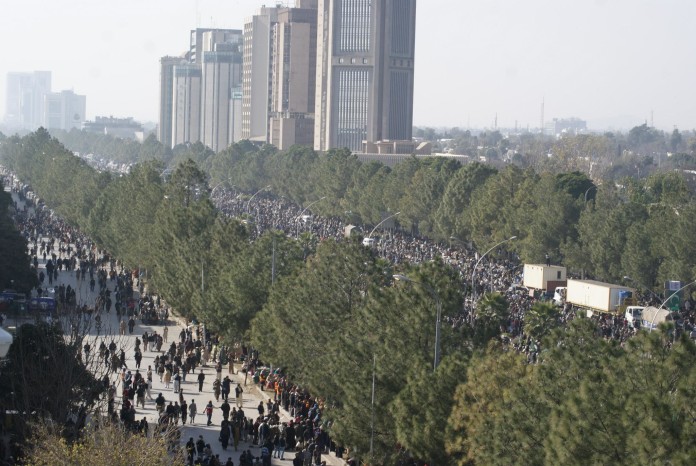 Moeed Pirzada | FB Blog |
Is there a method to this madness? Perhaps there is; crowd stopped short of the D-Chowk. Remember D-Chowk is not Parliament but is the point where offices of GEO and many other banks lie, many many processions and Lawyers Long March under Aitzaz had gone up to that point and every week few small crowds of protesters gather there to shout on something, this is in a way Islamabad's Officially sanctioned and approved "Speakers Corner", however Dr. Tahir ul Qadri and his Long March were first advised to go to F-9 Park and then it was agreed with Rehman Malik that they will stop infront of the Pak Saudi Towers…which they have violated and moved ahead. But there appears to be no plan to move beyond D-Chowk. In most countries, like UK or the US for instance, people have the automatic right to demonstrate in front of the Parliament and crowds do gather – with permission- around White House. There is nothing very strange about it; what is important is to make sense of this political move.
Qadri say's Assemblies should be dissolved. And I wondered last night, in fact this morning several hours ago -as I had written- why is he coming with such a strange unexpected demand? If there is a script for all this? but I have talked to various lawyers, and if I have correctly understood Assemblies can be dissolved by a government any time when elections are approaching; even six months in advance to hold early elections. The final limit of expiry on Pakistani elected national assembly is 16th March but provincial assemblies like Punjab can continue beyond that since government was formed later. So there is nothing sacrosanct about 16th March, it's only a concept created by the lay media in our minds.
I suspect that once this mercurial, self-declared Messiah of the Pakistani nation, this padri takes the pulpit in a short while he will declare that assemblies should be dissolved early to give full 90 days to the Elections so that all candidates and supporters and public gets one month for scrutiny of the documents and record of the candidates instead of a few hours needed for approval at the moment. The rationale will be that if assemblies complete their term then Interim Set up will be for 60 days before the Elections, if assemblies are dissolved early then as per the Constitution of Pakistan Interim Set Up can be for 90 days before the Elections.
If I have correctly understood his mind, then he will say something like this. I think Qadri is a very intelligent man, very well read, knows constitutions and law, is very clever, will not confront the public opinion, Supreme Court and the military establishment. All parties are already against him; if there was a chance for PTI to come out in his support he has doubly scared them. He will now say things to soothe. In management this is also a strategy to first ratchet up tensions to the point of no return and then negotiate. Getting smaller demands accepted becomes much easier.
Welcome to a very interesting dynamic political Pakistan. And remember most argument on media is shaped by political parties, their supporters and allied commentators, they create a reality for us; Haqqeat hamesha mukhtalif hoti hay….
I see robust negotiations taking place today and some sort of settlement; also the remarks of the Supreme Court this morning should help put down the political doubts; I am confident that Elections will be held this year, perhaps sooner than later. Qadri will never confront the Supreme Court……