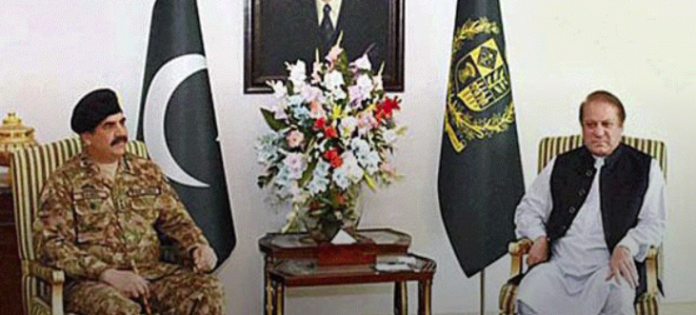 Islamabad – Today, Tue, 10th May, PM Nawaz Sharif finally met his military chief, Gen. Raheel Sharif. This photo-opportunity, with the other Sharif, was desperately needed by PM Nawaz as it was increasingly being discussed in media and political circles that since the Panama leaks scandal took strength, PM Sharif has not met Gen. Sharif to generate the usual photos that claim: both civilian and military leadership are on the same page.
However the media disclosures, lead by Dunya News, that followed the meeting and that claimed that amongst other things military chief informed the PM Nawaz that "he must quickly bring his house in order and that this is in national interest" dissipated much of the shine of this meeting. Photos claiming the 'Same Page Story' had backfired.
The last meeting between the duo took place on April 6th, two days after the formal emergence of Panama Papers and one day after Nawaz Sharif's speech to the nation offering to set up a commission under a retired judge, but the real controversy around 'Panama Papers' had started to rage afterwards.
Amidst this heated controversy around PM's family holding hitherto hidden offshore accounts, came the famous statement of the military chief that 'accountability should be across the board' which was followed by the leaks of the details of the officers sacked from the military on charges of corruption. Though the statement sounded pretty innocuous and generalized, and the fact that it preceded the formal news of senior officers being sacked for corruption did contextualize it but given its timing, its syncing with the fulminating public debate centered around alleged corruption of PM Nawaz and his family, this sounded like a demand from the military that PM Nawaz must come clean on the allegations stemming from Panama Files. It was thus the beginning of a war – at least in the minds of lay media and public.
In his second formal address to the nation on 22nd April, PM Nawaz minced no words. He did not directly mention the military but made several oblique references to those 'ghosts' that put him in jail, and sent him to Saudi Arabia, those 'ghosts' that brought 17th Amendment and so on. It was obvious that he wants his political support base – mostly rural Punjab and lesser educated urban communities – to interpret the "Panama Files" as another round of 'civil military conflict' in Pakistan, with him as 'democratic hero' braving the conspiracies, the onslaught. Earlier PMLN media team had variously defined 'Panama Files' as a CIA conspiracy against China Pakistan Economic Corridor, Jewish Plan, and Imran Khan's greed for power etc.
Urdu humorist, Shafiq ur Rehman, had once written, perhaps in 'Mazeed Hamaqtain' that if you want public to believe something you must keep on repeating it. For instance, buy a 'lion skin' from the bazaar, hang it on a wall, and keep a gun on your mantle in the drawing room and keep on telling all your guests how you aimed the shot, how you killed that lion. Which lion? the lion whose 'lion skin' is on your wall. At some stage, even if the guests are not convinced, you will be convinced yourself that you had indeed killed that lion. Nawaz Sharif and his family had been telling the story of their 'forced exile' to Saroor Palace for so long that they have now totally forgotten that they had forced Gen. Musharraf through relentless Saudi and American pressure (courtesy President Clinton) that they be allowed to leave. And that in lieu of a pardon, they had signed a contract to stay away from Pakistani politics for ten years – a contract which they violated at the first opportunity.
Anyway, it was in this overall context, this perception of growing civil military divide, a perception that Nawaz govt. wants to insidiously cultivate and is also afraid of, that a meeting with military chief was desired to send the message across to the punjabi support base – to throw waters on the ambitions of the opposition and to thwart the ghosts of media – that military was with Nawaz. In Pakistani politics this perception is important. Whereas to its liberal support base – of NGO's and diplomatic community in Islamabad – Nawaz wants to convey that he is under threat from the military, to the rural Punjabi its important to convey that military or its top man is with you – Our own General Sharif.
So when Dunya News senior reporter broke the story that Gen. Sharif had also advised 'PM Nawaz Sharif' to bring his house in order in national interest in these words:
"General Raheel Sharif expressed his concern over the current political situation of the country and suggested to the PM that the investigation of the Panama Leaks need to done at the earliest, adding that the solution of this particular matter is in the interest of the country. Army Chief said that everyone has to work for the prosperity of the country and to ensure transparency the government must investigate the Panama leaks at the earliest"  (Dunya News, 10th May 2016)
Sources in the Prime Minister's Office then reacted by putting a cocktail of pressures that meant: withdraw the story. It was asserted that media should not speculate on the basis of 'sources' however when asked if Prime Minister's Office will like media to refute the sources in categorical fashion, should it be said that such an advice 'bring house into order' was never given then the sources in Prime Minister's Office winked. While reporters contacted the original sources and they remained adamant that the information initially given is true, and they stand by it.
What does it mean? Does it mean that military has made a plan to force government into a corner? Is it the beginning of the end of a regime seriously weakened by charges of corruption? a regime that is desperately trying different options and tactics – Commission, allied political parties, friendly opposition, Parliament, bought voices in media, civil military divide, defense of democracy – to regain its lost moral ground. In democracy, all your authority is moral, elections are nothing but a certificate of your moral authority to govern; because there will always be large numbers who have either voted against you or not voted at all.
No. It only means that military is in no mood to  lend its supporting shoulder to bail out PM Nawaz Sharif. Today's meeting was a clever insincere attempt on behalf of the Prime Minister and his team to cash onto the popularity of the military, to take their help, in rescuing Prime Minister's battered image. There is some evidence that contacts were also made to some top officers seeking help and intervention from the military on behalf of the PM. Through this meeting, which was probably not needed otherwise, optics of power and strength were to be generated; opposition, media and public were to be fooled; control, power and invincibility of the Prime Minister was to be demonstrated. And GHQ – like the State Department in Washington – had been smart enough to understand that the PM Nawaz is trying to exploit 'military's good will, its hard earned public image' for its own ulterior motives. And they let the public know through 'Dunya News' as to where they stand on 'Panama Files' just like the State Department had done in the second week of April. Read my analysis here. US Position on Pakistan PM Nawaz Sharif after Panama Files Leaks & its Importance?
Now Prime Minister Nawaz will visit Parliament on this Friday, and will try to shape a narrative with the help of his allies like Maulana Fazal ur Rehman, Mehmood Khan Achakzai, MQM and ANP. Democracy will be in danger once again. What will PPP do? Has Khursheed Shah received his signal from London, from Asif Ali Zardari to bail out Nawaz Sharif? Are we finally moving towards the unique, unforgettable, historic 'Nawaz -Zardari Commission on Corruption'? Are Aitzaz, Raza Rabbani all are on board? Will there be real questions like there should be in this situation or it will be a set up to white wash and bury 'Panama Files'? We will find out on Friday, 13th May.