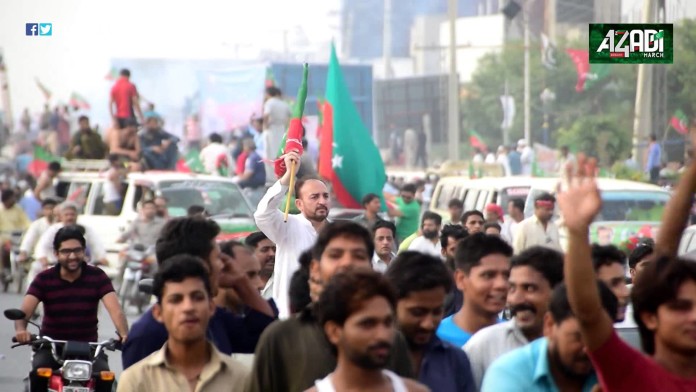 Moeed Pirzada | FB Blog |
PMLN's Policy to use "terror" against political opposition and Media – History is long. Today's attack against PTI workers near Jehlum on a day of PTI Rally fits neatly into that pattern of creating fear through violence that has been the hall mark of political thinking of PMLN from the very beginning. Can one expect justice from Pakistani judicial system? Can one expect Supreme Court to take notice of such acts of terrorism?
Unfortunately Supreme Court itself was attacked in 1997 by an unruly mob lead by PMLN party workers like Sardar Naseem & Col (retd) Mushtaq Tahir Kheli, Nawaz Sharif's political secretary. Hooligans stormed into the supreme court, forcing Chief Justice Sajjad Ali Shah to adjourn the contempt of court case against Prime Minister Nawaz Sharif. Hundreds of Pakistan Muslim League supporters and members of its youth wing, the Muslim Students Front (MSF), breached the police cordon around the courthouse when defence lawyer S.M. Zafar was arguing his case.
Famous PTV anchor Tariq Aziz, famous for Neelam Ghar, threw and broke the portrait of the founder of Pakistan Quaid-e-Azam Muhammad Ali Jinnah. But such has been the impotence of Pakistani Judicial System that some lowly minions were arrested and tried after a long period and awarded ceremonial punishments. The real culprits who planned and encouraged the attack on the Supreme Court of Pakistan were never identified or prosecuted. Had they been prosecuted the political history of Pakistan would have been different.
But the important point to understand is that at every juncture when PMLN was under political challenge and stress, party was able to cow down its opponents through violence and intimidation and the impotent state institutions including Pakistani Military silently watched. Attack on Supreme Court was widely anticipated but the Supreme Court Chief Justice's request for physical protection to the Army Chief was sent by the Army Chief (Gen. Jehangir Karamat) to Ministry of Defense which was under PMLN. After the end of that challenge, Nawaz Sharif found the opportunity to get rid of Gen. Jehangir Karamat as well, who was packed unceremoniously.
In the same time period (1997-99) Najam Sethi was picked up, for writing satirical pieces against Nawaz Sharif, by IB from his home, beaten and abused and handed over to ISI for framing sedition charges which was refused by the then military Chief, Gen. Musharraf. (I was told this in detail by Najam himself in London in 2006). Jang and News were asked to fire 04 journalists including Maleeha Lodhi and when they refused all government machinery was let loose against the papers reducing 16 page paper to 4 pages. The whole period was replete with such tactics against political opposition and media. In 2006 PMLN and PPP workers beat protesting boys in Edge ware Road outside Rehman Malik's house when boys were protesting on the meetings between PPP and PMLN. (Aitzaz Ahsen apologized on behalf of PPP in my tv program in London and referred to all this violence a result of mind distortion under martial laws)
We unfortunately again see the same pattern of using terror. Attack on Tehrik-e-Minhaj ul Quran in Model Town was perhaps not to kill or murder people but to give them a good beating to spread fear and intimidation across whole of Punjab. Impotency of state institutions – including Police, Judiciary and Army – to protect public interest is in full glow.
No genuine investigation is happening because Police officers have evidence of pressure being exerted from the top and if put in dock they will speak and spread the beans. Attack on PTI rally in Gujranwala, attacks on Shah Mehmood's house in Multan, use of privateers with Police in Islamabad and now this latest attack in Jhelum are not isolated events that just happen. They are part of a "thinking" that believes in using "violence" to terrorize political opposition and media. Most of the time Police is used like in Lahore and Islamabad by creating pretexts and excuses but then there are instances when private gangs are needed since Police despite its institutional decay won't oblige in such tactics.
And Pakistan is such an uncivilized and underdeveloped state with failing institutions that it works. This gives temporary results. But With every such action state and democratic society gets weakened. Ultimately when such actions continue the only force that stands between rival political factions and interests is the Army. This is ultimately the plight of every failing state. This is what the anarchy in civil war torn Africa was. But I am doubtful if Pakistan Army will be able to deal with the kind of crisis that is brewing now. It is the responsibility of Pakistani political parties, and Media including PMLN second tier leadership who are silently watching these crimes to come forward and take positions and above all it is the responsibility of Pakistani Judiciary to take notice before this realm totally collapses into anarchy.